The season of love is around the corner. Gifting chocolates, roses, and teddies is the love language used by people across the globe to pamper their loved ones. But, if you want to go a step ahead and confess your love to her, there's nothing better than lustrous diamond jewellery. 
Diamonds have been an evergreen symbol of love and commitment. Growing up, we might have heard how wearing a diamond ring on the ring finger of the left hand is auspicious. It is said that it connects the diamond to the heart through the 'vein of love' that runs from that finger directly to your heart. 
But wait, diamond rings are not the sole diamond jewellery that women prefer. There are so many options from pendants, necklaces, and earrings, to bracelets, chains and more. 
Thanks to the modernisation of technology and amazing craftsmanship, today, we have breathtaking diamond accessories that can melt her heart and strengthen your bond. Following are the various diamond accessories you can choose to gift your loved one this Valentine's day.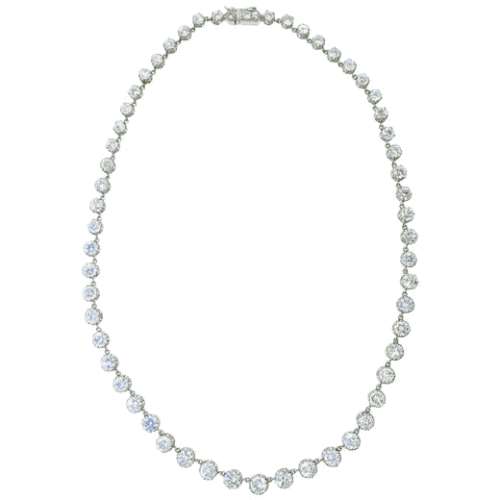 What could be better than gifting a diamond chain to her on Valentine's day? 
Diamond chains are a symbol of sheer love, commitment and admiration. It is a timeless gift that can be worn and cherished by your love forever.
The best part is you can be creative and buy a chain that is chic and matches her style. To add a little spice, you can opt for either white gold or rose gold chain with a heart pendant in between. Further, you can even go for different styles of charms such as crescent, the first letter of her name, and so on that she can wear with a chain every day. 
Just make sure you certify your diamond chain before gifting it to your special someone.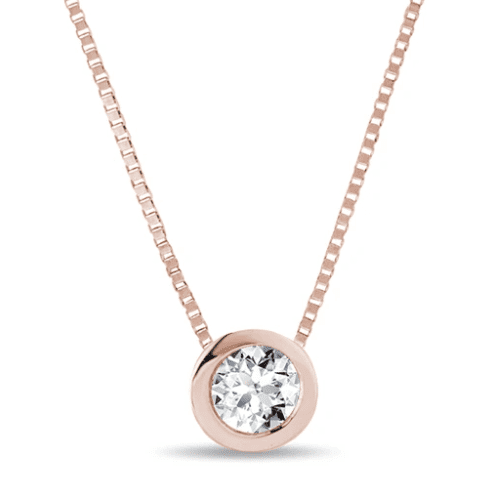 Diamond pendants are classic and nevertheless classy. They complement every occasion and almost every piece of clothing. Its glamour while dangling on the collarbone of a woman snatches everyone's attention and looks graceful. Thus, diamond pendants are one of the best gift choices for your better half on Valentine's day. 
Undoubtedly, the designs for diamond pendants are infinite, and it's pretty easy to get lost while searching for the perfect one. That's why, we recommend you to understand your partner's choices, and likings and then look for the same. You can choose from the classic round to the fairly modern princess cut. Further, you can even opt for emerald, asscher, cushion, pillow, or pear-shaped pendants.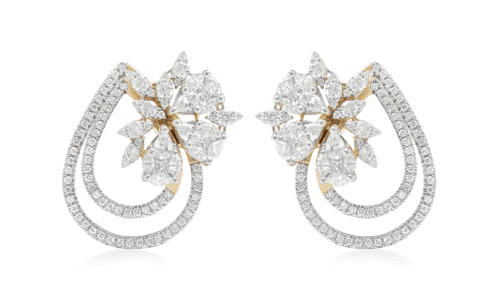 If you're stuck and cannot decide what to give your lady love this Valentine's day, go for earrings. Earrings are one of the most prized possessions of every woman (and they can never have enough of them!). 
Earrings can amplify even the most basic dressing and add glamour to the overall appearance. While you're looking for the perfect diamond earrings, decide whether you want a classic design or something modern and trendy. Accordingly, go for the styles, check out different metals such as rose gold, white gold, and platinum, and experiment with different diamond colours until you find the one!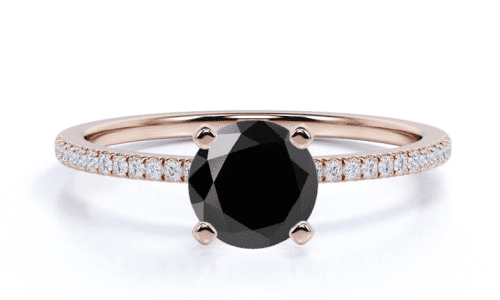 There's nothing more romantic than gifting a diamond ring to your lady on Valentine's day! If her finger is still empty, it's your chance to seal the deal with a perfect diamond ring. Not only this, diamond rings are the perfect way to express your love to her and make her feel special. 
Although white diamonds are the most popular choice for such an occasion, black diamonds are a chic and impressive alternative. If you want to know more on Black Diamonds, make sure to read our blog on the same to know everything about it. The luminescent and velvety appeal of black diamonds attract a lot of glances and is perfect if you want to go a step ahead and gift her something unique.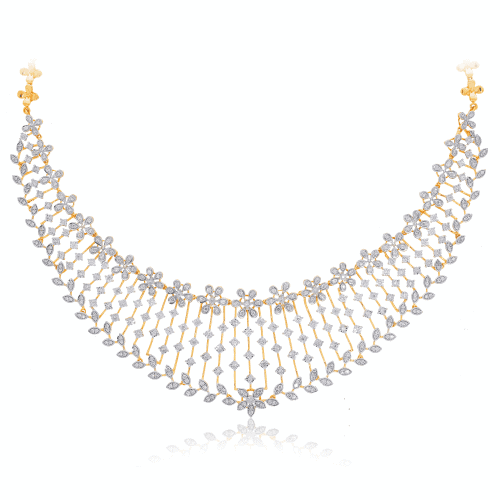 Diamond necklaces or neckpieces are one of the best choices for Valentine's day. Necklaces are one of the favourite accessories of ladies. They spend a considerable amount of time choosing them and always have an amazing personal collection. 
You can keep it simple and sober with a gold chain and a diamond, emerald or ruby pendant. This classic beauty can go with almost every dress and suit every occasion. Also, you can even go for something trendy such as spell-it-out charms and unique pendants.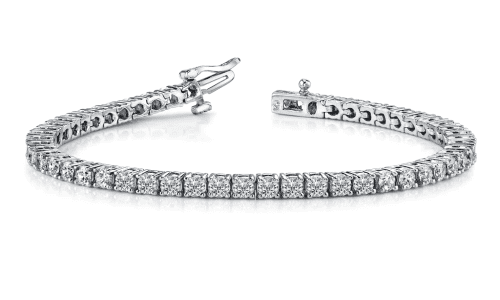 Bracelets are another fancy of women. The sleek and sparkling beauty on their wrists can amplify their aura. 
While looking for a bracelet, you can go for a timeless and classic design with a gold metal band and diamonds on top. Further, you can even go for personalised charm bracelets with your initials, birthday, sun sign, anniversary date, etcetera. It can serve as an amazing reminder of your love and commitment.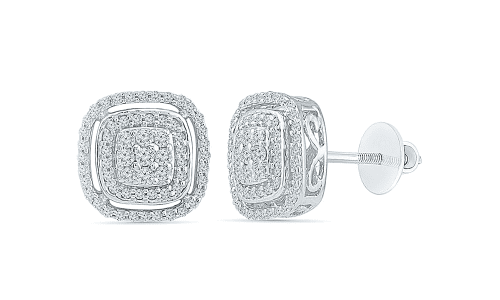 How can we forget rubies on Valentine's day, right? Over the years rubies have been regarded as a symbol of love. Its deep red colour has been linked with love, passion, commitment, affection, and a zest for life. Round ruby studs with gold or rose gold metal are a showstopper. They look elegant, and classy, and suit every occasion. 
Moreover, black diamond studs are also gaining a lot of popularity these days. Emerald studs, classic round-cut studs, and more are the perfect choice for Valentine's day. 
8. Heart-Shaped Diamond Jewellery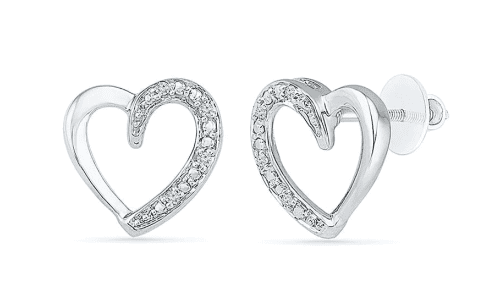 What can be more romantic than gifting your lady love a heart-shaped diamond accessory on Valentine's day? With a perfect jewel, it can be the most beautiful gift she has ever received! 
Diamond Necklace: A classic diamond necklace with a gold or platinum chain and a heart-shaped pendant in between can melt her heart. Further, you can even experiment with the diamonds' colours such as pink, purple, black and orange. You can even go for a mesmerising heart-shaped ruby pendant or an emerald one. 
Earrings: Heart-shaped diamond studs are another popular choice for Valentine's day. While selecting the perfect earring for your better half, make a note of her choices and styling style so as to give her a perfect gift! 
Engagement Ring: If you're planning to seal the deal this Valentine's day, a heart-shaped engagement ring is a perfect choice!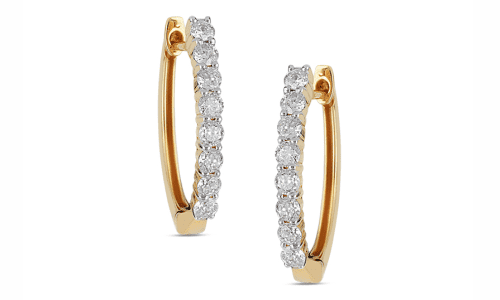 Diamond hoops are a modern take on traditional diamond earrings, perfect for those who want to add a touch of sparkle to their everyday looks. Hoops can be dressed up or down, making them a great choice for both casual and formal occasions. Another advantage of diamond hoops is their timeless appeal. Hoop earrings have been popular for centuries, and the addition of diamonds elevates the look to make it even more special. Whether you choose a simple hoop with a single row of diamonds or a more elaborate design with multiple rows of diamonds, diamond hoops are a timeless and chic choice.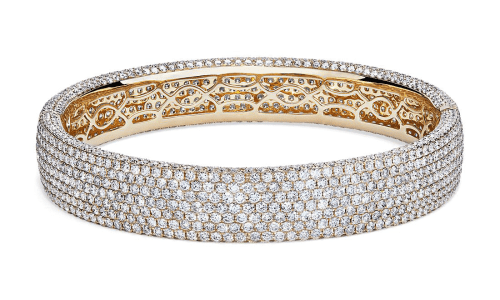 This type of bangle features diamonds set in a pavé style, with tiny diamonds covering the surface of the bangle to create a glittering effect. Pave bangle can be worn alone for a simple and elegant look or stacked with other bangles for a trendier style. These bangles come in a variety of designs, from simple bands to intricate styles, so you can find the one that best fits your personal style.
Gifting diamond jewellery on Valentine's Day is a timeless tradition that symbolizes love and commitment. With a wide range of options you have read about in the blog, from classic diamond stud earrings to more elaborate necklaces and bracelets, we are sure that you have found the perfect piece to express your love and appreciation for your special someone.