Baguette diamonds are a type of diamond that is known for their unique shape and appearance. They are one of the most popular types of diamonds in the world, and they can be found in a variety of colors and sizes.
In this blog, we will discuss some of the key things you should know about baguette diamonds in order to make an informed decision when purchasing one.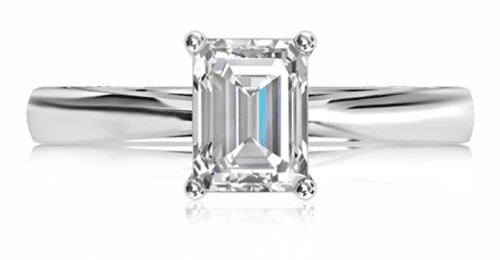 What Are Baguette Diamonds?
Baguette diamonds are typically cut into a unique shape that is often compared to a French baguette [long and narrow loaf, popular in France]. They come in all shapes and sizes, but the most popular ones are those that are slightly longer than they are wide.
The diamond's shape is what gives it its unique appearance. The narrower width of these diamonds makes them more versatile for earrings, pendants, and other smaller jewelry pieces. 
Baguette diamonds were first created in the early 1990s and have since become one of the most popular diamond shapes. They are less expensive than the round-shaped diamonds and are often considered to be more feminine.
The History of Baguette Diamonds
The baguette cut can be described as a rectangular or square-shaped diamond with facets on all four sides. Though it has been around for many years, the diamond found its popularity in the early 20th century and had a strong presence during the Art Déco and Nouveau periods. The name was derived from "baguet", meaning stick of bread.
In the Art Deco period, a new trend emerged among gem cutters. Craftsmen came to adore the use of baguette cuts as accents in all kinds of jewelry that were meant to be worn and seen by everyone. They would pair them with larger stones and they also used smaller sizes while accenting other types of pieces made up of diamonds, platinum, or gold.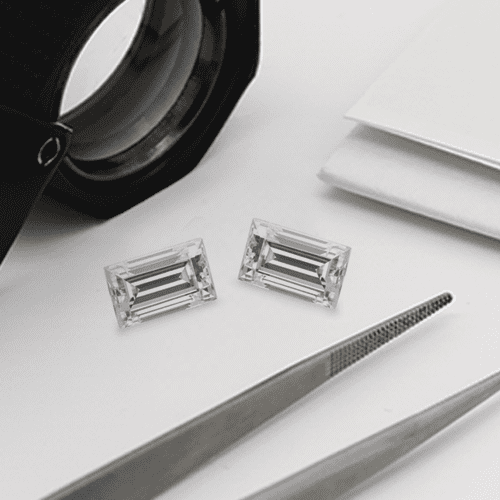 How are Baguette Diamonds certified?
Baguette diamonds are graded and certified in the same way as other diamonds e.g. round diamonds. 
Baguette diamonds like all diamonds are graded by assessing the respective diamond's 4Cs: Clarity, Colour, Cut, and Carat Weight. The term 'baguette' is used to describe a diamond that is long and thin with a rectangular shape. The length should be at least twice the width but at most three times the width. 
They can be graded using the same international standards and measured using the same laboratory instruments as used for other types of diamonds.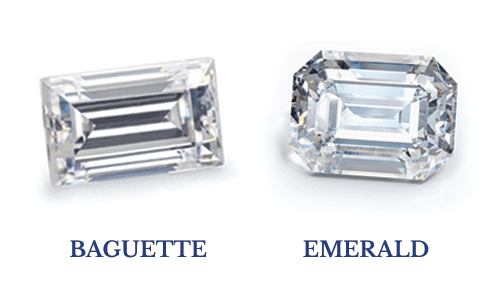 Baguette vs. Emerald Cut Diamond
The primary difference between Baguette and Emerald Cut diamonds is their shape. Baguette cuts resemble a loaf of French bread and hs 14 facets. On the other hand, Emerald cuts are more rectangular in their design and have 58 distinct facets jutting out from the stone.
Since a baguette-cut diamond has fewer facets, its shine is quite less when compared to Emerald diamonds. Furthermore, any impurity in a baguette diamond would be more accentuated than the Emerald one.
The second key difference is corners. Baguettes have square corners, while Emerald Cuts have diagonal corners. Baguettes are longer and narrower than Emerald Cuts.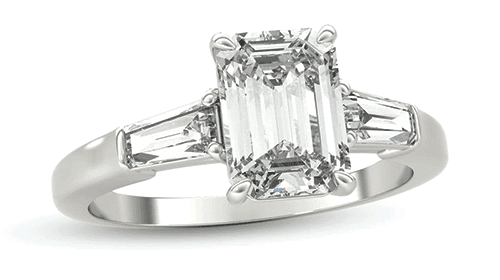 Pros and Cons of Baguette Diamonds
When it comes to baguette-diamond cut, the clarity and cut of the diamond are more important than ever. Precision is important when it comes to baguette diamonds because there are only 14 facets on each stone. This means that the diamond needs to be cut very accurately in order to achieve a high-quality finish.
With other diamond cuts, you can often get away with a lower clarity because the facets help to hide imperfections. However, in baguette diamonds the imperfections are more prominent, so you may need a higher clarity.
If you choose a ring with baguette diamond side stones, it is important that they have the same color and shape. Additionally, it is best not to mix different-colored baguette diamond side stones with the center stone – this can clash with the overall appearance of your ring.
Though baguette diamonds are often accents, it doesn't mean they can't be the centerpiece of a ring. The recommended setting with it is a solitaire or solitaire pavé [Solitaire Pavé Setting is a setting in which small gems are set in a channel of metal surrounding a larger gem. This setting adds to the sparkle of the jewelry piece]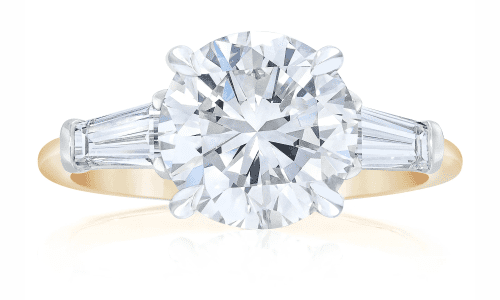 Should you consider a baguette diamond or round diamond for your new ring?
Baguette diamonds as the name suggests, are diamonds with elongated baguette-shaped faceting. The elongated shape and the high brilliance make it a suitable design for rings and other jewelry.
But, are Baguette diamonds good for rings? Well, Baguette diamonds are desirable for rings because they allow light to enter the diamond to flow freely through the stone. This creates the illusion of the stone is larger and more brilliant. But, Baguette diamonds are not as brilliant as their round counterparts. So, Baguette diamonds can create an illusion of greater size and brilliance, but they may not be as vivid as round diamonds.
Check out our blog on diamond buying guide. It covers various aspects that one must understand before buying a diamond.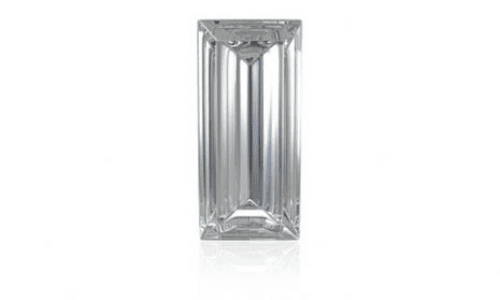 Are Baguette diamonds rare?
Baguette diamonds are special because they reflect light in an intriguing manner. The more baguette diamonds you have in your jewelry, the more sparkle it will have. Now, these special diamonds are not as rare as they used to be, but they are certainly not cheap. Fortunately, you can get them without breaking the bank.
We hope this blog helps you understand everything that you need to know about Baguette diamonds. Don't forget to check out our other interesting blog pieces.