Standing just behind the round diamonds, in popularity, are the glamourous princess cut diamonds. Their anatomy is just commendable; a perfect square or a rectangle table with 53-144 small facets and four pointed corners that results in maximum brilliance.  
If you too have been amazed by its beauty and want to learn more about them, you're in the right spot. 
Read on to know the origin, key features, and more of princess-cut diamonds. 
Princess Cut Diamond- Origin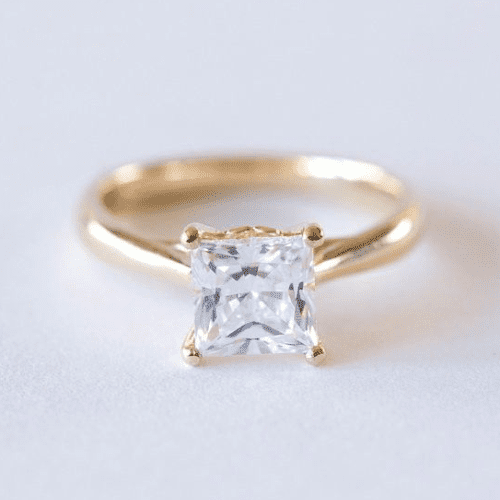 Princess cut diamonds are fancy-shaped diamonds that exhibit maximum fire and brilliance. Though the face profile of princess cut diamonds is ‌square or rectangle, the side profile resembles an inverted pyramid with four bevelled sides. This unique side shape is responsible for superior light dispersion that can cover up the innumerable flaws hidden inside a stone. 
 The best part is they cost less than the round-cut diamonds as more of the rough stone is maintained during the cutting process. 
Although princess-cut diamonds may not be as popular as the round ones, they're a popular alternative to the latter because they're cheaper and exhibit a sparkle equivalent to the round ones. 
The roots of the princess diamond cut can be traced back to 1971's Barion Cut Diamond. It was the work of Basil Watermeyer of South Africa that comprised 81 facets and was accompanied by four-fold mirror image symmetry. More or less, it was a combination of emerald and marquise cut. 
 However, a decade before that, Arpad Nagy, a London-based diamond, created a cut which was known as the 'profile cut'. Today, the same cut is known as the princess cut. Gemologists such as Betzalel Ambar, Ygal Pernman, and Israel Itzkowitz popularised the name 'princess cut'.
The modern princess cut diamond is the square version of a round brilliant cut, a.k.a square modified brilliant. It contains facets ranging from 53 to 144 (this may vary depending upon the shape of the square and cut of the pavilion). Also, it has sharp edges or delicate corners which make it more prone to chipping. 
Pricing of Princess Cut Diamond

A princess-cut diamond usually yields around 70-80% i.e, if a one-carat rough diamond is sawed, it will yield around 0.70 to 0.80 ct of a polished diamond. On the other hand, a round brilliant cut will yield in the 40% range. 
Thus, unlike round-cut diamonds, less material is wasted during the making of a princess diamond. As a result, princess-cut diamonds are cheaper than round ones. 
For instance, if a round brilliant cut costs around $2,500 per carat, a princess cut diamond is expected to cost around $1500 to $1800, depending on the cut, clarity, and colour. 
Similarly, the higher the carats, the higher will be the cost of diamonds. Thus, if a one-carat princess cut diamond costs around $1800, it will be 2x for two carats, and so on. 
However, keep in mind that princess-cut diamonds are one of the most sought-after fancy-cut diamonds. Thus, it's expected to have a higher price than other fancy diamonds such as the pear cut or the radiant cut. 
Also, the cut of the diamond also plays a key role in determining its price. The cut of your diamond ultimately impacts its brilliance and sparkle. An excellent-cut diamond will help the diamond ‌retain its dazzling beauty, while a less well-cut diamond will make it appear dull and lifeless.   
Key Features of a Princess Cut Diamond

Colour simply refers to the slight shade of hue present in a diamond. For a princess cut diamond, it's advisable to go for colourless (D, E, F) or nearly colourless (G, H, I) grades.

It refers to how free a diamond is from internal inclusions and blemishes. It's a well-known fact that princess-cut diamonds can hide the inclusions.  A princess-cut diamond with a clarity grade of SI1 or VS2 will offer an eye-clean clarity at a great price point.
The Ceylon blue sapphires have minimum dark extinctions which make them the best fit for use in jewellery. Also, the lighter shades of these blue sapphires are more clear and more brilliant. 

The cut of a diamond refers to the quality of symmetrical facets, angles, and proportions in a diamond. One of the trickiest parts while choosing a princess-cut diamond is determining the right cut quality. Why? That's because there is no industry-wide consensus as to what makes a perfect princess cut diamond. 
Thus, a diamond cutter has full liberty to transform a rough diamond into a fancy princess cut. 

It refers to the weight and not the size of the diamond. The choice of the carats boils down to how much you're willing to pay for a diamond. For instance, the higher the carats, the higher would be the price you would have to pay. 
Want to learn about the 4Cs of diamonds in detail? Check out our blog "the complete A to Z of the 4Cs of diamonds".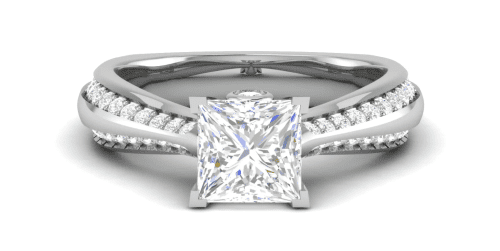 It's a well-known fact that princess-cut diamonds are cheaper than round-cut diamonds. The reason behind this is that less waste is created during the cutting process, that is, most of the rough stone is utilised.

Due to a big table (top part of a diamond) and a small pavilion (bottom half of the diamond), princess diamonds appear bigger than the round cut diamonds. 
Thus, with princess-cut diamonds, you can get a bigger diamond at a lesser price.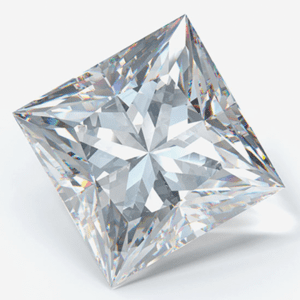 Princess cut diamonds exhibit maximum brilliance. In fact, their optimal light performance is unmatchable. That's why they're the second most popular brilliant cut diamonds standing just behind the round ones. 
However, although they have great spark, they'll never sparkle more than round brilliant cuts.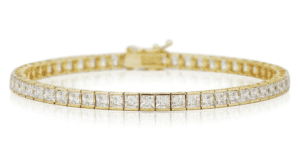 The only concern with princess cuts is that their sharp corners are prone to chipping. This negatively impacts a diamond's lifetime. To make it more durable, protecting it with prongs is highly recommended. 
Wondering how to select the perfect diamond jewel for your loved ones? Check out our diamond buying guide to get started. 
Best Setting Style for Princess Cut Diamond
Undoubtedly, the best setting for princess cut diamonds is the classic channel or four-prongs setting such as solitaire. As princess-cut diamonds have pointy edges, it's essential to support the corners so that it doesn't get chipped. 
The following setting offers protection to the diamond without shadowing its beauty.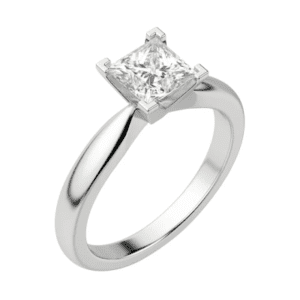 The solitaire setting allows the diamond to take the centre stage held together by four to six prongs that extend out of the band itself. This allows the diamond to exhibit maximum brilliance and sparkle.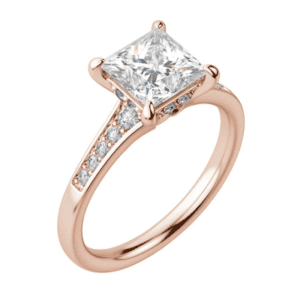 The channel setting is similar to the solitaire settings. However, the surrounding band of the rings is embedded with small diamonds.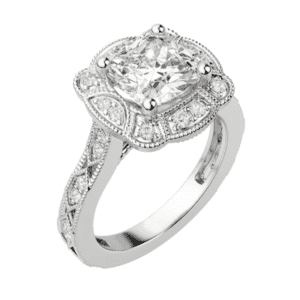 Vintage-style rings have a beauty and aura like none other. Historically, they're considered antiques and passed down from one generation to the next.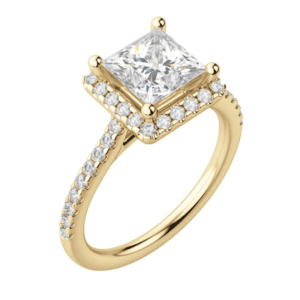 Rings with a Halo setting have a stone at the centre and the band is surrounded by small stones.
Celebrities Donning Princess-Cut Diamond Rings
The princess cut diamond owes its popularity not only to its price but also to the glamour and aura that it exhibits. It offers a unique combination of eye-catching gleam and architectural edge. Interestingly, more and more celebrities are choosing it for their "big day". 
Here's a list of celebrities donning princess-cut diamond engagement rings: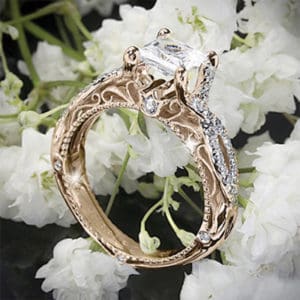 Snooki's
princess-cut solitaire diamond ring is the epitome of style, sleekness and glamour. It is set on a paved band and is surrounded by large stones.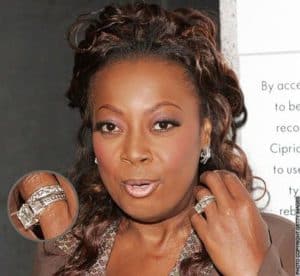 Star Jones' engagement ring was a 7 carats princess cut stunner. It was set with baguette stones on either side.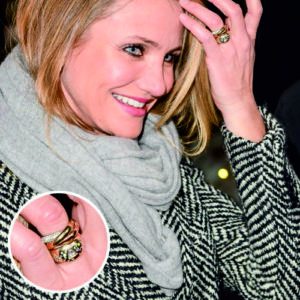 Cameron Diaz's princess-cut solitaire engagement ring is the definition of beauty and style. It is set on a white gold band free from any accent diamonds.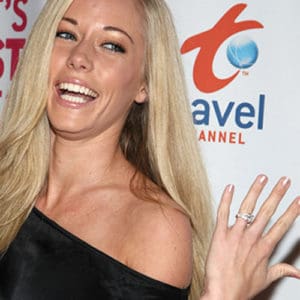 Kendra Wilkinson's princess-cut engagement ring features three bands and a split shank design.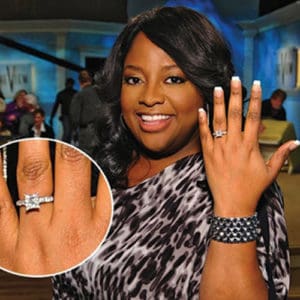 Sherri Shepherd's engagement ring had a classic channel setting with a princess cut stone at the centre and surrounded by other smaller stones.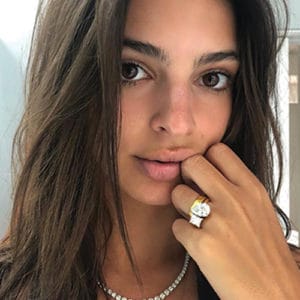 Emily Ratajkwoski's engagement ring has a combination of both princess cut and pear-shaped diamond set in a gold band.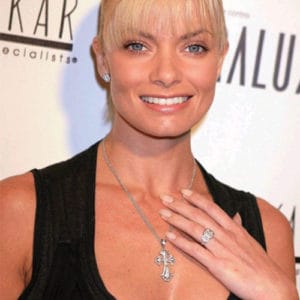 Jaime Pressly's daunting engagement ring has 3 princess cut diamond stones each surrounded by a magnificent diamond halo. 
If you're curious to know more about the most famous and expensive diamonds, you can refer to one of our blogs. 
Yes, princess cut diamonds are cheaper than the round brilliant cut because most of the rough stone is maintained during the cutting process of these diamonds. They're a popular alternative to round brilliant cuts, as they're affordable and offer the same brilliance as any other brilliant cut stone.