The enticing Red Rubies have a magnificent aura and spiritual powers. If you have been fascinated by their charm, you're in the right spot. 
In today's blog, we'll decode the history, significance, characteristics, and almost everything you ever want to know about rubies. 
Read on and discover yourself!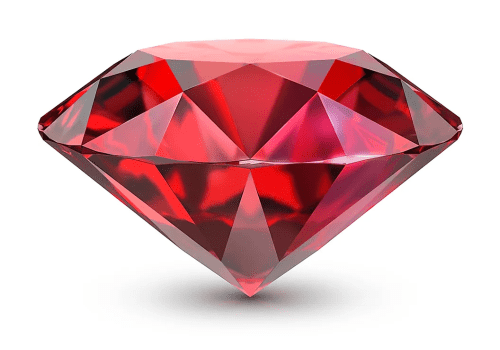 Rubies are one of the most popular colored gemstones. Usually, rubies have a strong red color. Their color depends upon the amount of chromium present in the stone. However, defining their precise color is difficult as it can range from blood-red to orange-red, pink-red, and more. 
Unlike diamonds, rubies are found in limited parts of the world, such as Madagascar, Thailand, Nepal, and Australia. 
These lustrous stones have been considered the symbol of love, passion, and nobility. In American culture, rubies are popularly known as the 'July birthstone' and are exchanged on the 15th and 40th milestone anniversaries. In other parts of the world, they are considered protective stones that can bring peace, happiness and passion into the life of the wearer. 
Undeniably, rubies also serve as a symbol of love in relationships. Moreover, it also promotes self-care and fuels confidence in the wearer to tackle all difficulties in life with positive energy. 
Natural Rubies v/s Lab Created Rubies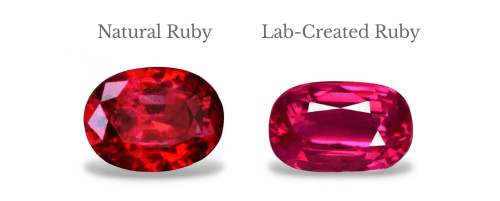 Today, with the development in science and technology, creating rubies in the confines of the lab has become a possibility. In fact, lab-created rubies are gaining popularity in recent times because of their affordability and sheer resemblance to natural ones. 
Natural rubies are formed deep inside the earth's crust over ‌20 million years! With the heat and pressure inside the earth, the oxygen and aluminium atoms turn into corundum. When this corundum interacts with chromium, it creates a distinct crystal with a red hue, known as rubies. 
On the other hand, lab-created rubies are created in a controlled setting of a lab. However, it retracts the same chemical and physical properties as the natural ones. 
But which one is better? 
Judging the appearance of the ruby is subjective. Both are equally good. One's choice depends heavily on their budget, taste and preference. 
If you are interested to explore the topic of lab-grown gems and diamonds in detail, you can check out our blog on it.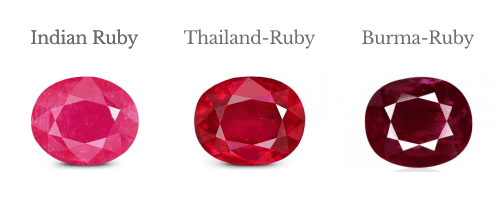 The name "ruby" has its roots in the Latin words "ruber" and "rubeus" meaning red. In Sanskrit, rubies are known as "ratanraj" meaning the king of all precious stones.
Since ancient times, rubies have been cherished for their beauty, colour, and sparkle. Due to their hardness and density, they have been considered a valuable addition to jewellery.
Cultures around the world have associated some significance with rubies. For instance, ancient Hindus believed that those who possessed rubies were protected from all evil forces. Also, those who offered these precious gemstones to gods will always be blessed and raised to a higher position in their next life.
Similarly, in ancient Burma, warriors leaving for battle inserted rubies in their flesh to make the opponent realise ‌they were invincible. On the other hand, the Chinese warriors adorned their weapons (especially swords) with rubies for good luck and protection. Also, Chinese people also put rubies on the foundation of a building to ensure the prosperity of the project.
Over the years, rubies have also become a status symbol. It's been mined and acquired by elite and royal families throughout the world. For instance, the Burmese Ruby Tiara of Queen Elizabeth.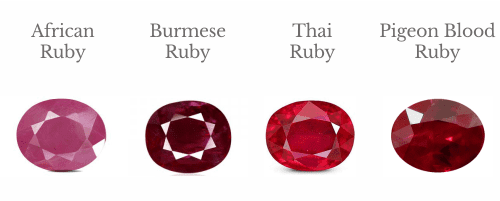 Although rubies come from around the world, they differ from region to region in terms of shape, size, colour, and more. Rubies are categorised into certain types based on the region where they're found. Following are the types of rubies:
Rubies that are found in African countries such as Kenya and Mozambique have a deep red hue and a lustrous sparkle. Their unique colour and shine make them so popular.
Rubies from Burma (now Myanmar) are famous throughout the world for their unique characteristics. They have a deep red colour and a peculiar shine. In fact, rubies from Myanmar are the costliest of all.
Thai rubies have a less deep hue than Burmese rubies. However, their popularity and demand are unmatchable. Not only are they extremely rare, but also highly coveted by people across the globe.
Thus, a diamond cutter has full liberty to transform a rough diamond into a fancy princess cut. 
These rubies have a deep red hue with a mild purple tint. When viewed under light, they look deep red. Rubies with pigeon blood colour are extremely rare and expensive. In fact, the majority of these rubies are extracted in Myanmar.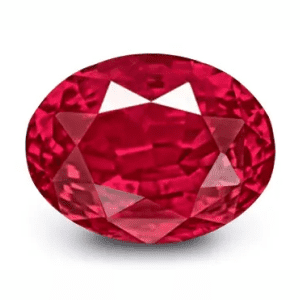 Though rubies are extremely rare and valuable, most of them are considered being less expensive than diamonds (of the same size). 
That is to say that a ruby usually costs less than a high-quality diamond. 
However, rubies can be at par or more expensive than diamonds, too. High–end rubies that have good colour, clarity, carat, treatment, and origin are more expensive than diamonds. 
Factors to Consider While Selecting a Ruby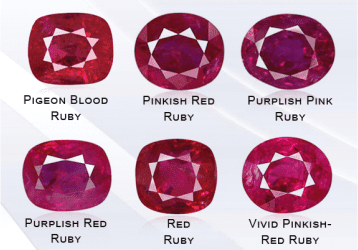 One of the most important characteristics of rubies is their eye-catching red color. The color of this gemstone is judged on the basis of three criteria: hue, tone, and saturation.
Hue

refers to the physical color of rubies. It can either be red, pink, or somewhere in between. 

Tone

refers to the depth of the colour. It could be dark, light, or in the middle and thru. 

Saturation

refers to the evenness and distribution of color along the stone. 
On average, rubies have a rich, deeply even, and vivid red colour. However, it doesn't mean that rubies of lighter shades do not exist or are fake. It simply means that rubies with a deep red colour are more desired because of their rarity and their ability to mask inclusions. 
Also, note that there are no standardized grading systems to grade the color of rubies because each stone differs heavily from the other. 
Further, apart from the carat, colour influences the price of ruby to a large extent. 
As rubies are formed deep inside the earth's crust, due to heat and pressure, it develops certain inclusions. These inclusions can be clouds, needles, feathers, crystals, pinpoints, etc. Together, these inclusions affect the clarity of the stone. 
A ruby with maximum inclusions will appear dull and lifeless, whereas one with minimum inclusions exhibits sparkle and charm. 
That's why rubies with better clarity or lesser inclusions have huge demand. Also, as with diamonds, rubies with lesser inclusions are more expensive than others.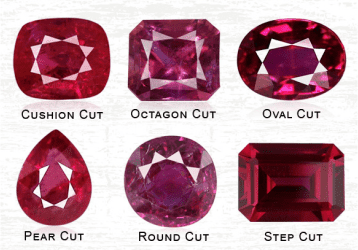 A ruby's cut refers to how well the stone is faceted, its various dimensions, and its overall symmetry. However, it's important to note that ruby is not graded based on its cut. That's why the cut is a less important factor than color and charity. 
But, the cut of the ruby plays a key role in maximizing the color and carat of the stone, and minimizing inclusions.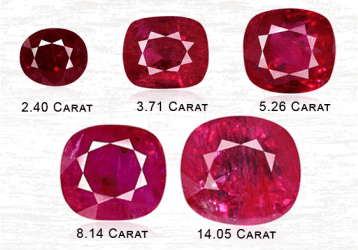 The carat (weight) of the ruby heavily influences its price. The higher the carat, the higher would be the price tag and vice versa.
Interesting read: You can read in detail about the 4C's of a diamond by clicking here.
Characteristics of Rubies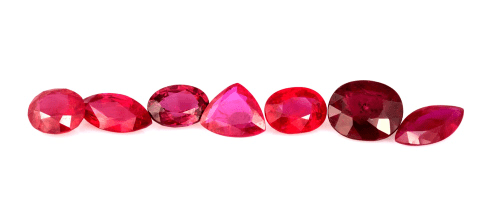 Natural rubies are extremely hard, durable, and resistant to acids. Its hardness on the Mohs scale is 9. This excellent toughness and almost zero cleavage (tendency to break when struck with something) makes it the best choice for jewellery.
The chemical formula of ruby is AI203. Its refractive index and specific gravities are 1.76-1.77 and 3.9-4.1 respectively.
3. Treatments and Imperfections
Natural rubies have imperfections. They may be as impurities such as colour impurities or 'silk needles'. Silk needles are basically a network of tiny rutile crystals and they help scientists to establish the authenticity of the rubies. However, with treatment, these imperfections can be lessened to a great extent.
As explained earlier, rubies get their names from their colour, i.e. red. The amount of chromium present in the crystal defines what shade of red the ruby might be. For instance, we can have rubies with orange, purple, pink, and violet hues. On average, the pigeon blood rubies are the most coveted of all.
A few rubies display a three-ray six-point star. It happens when the orientation of silk needles falls on more than one axis. This phenomenon is called asterism and is caused when the light reflects from the rubies' needles and gives the stone a glistening aura.
How to Know If the Ruby is Real?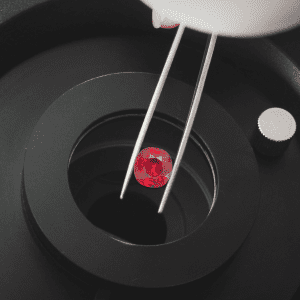 It's not an unknown fact that fake rubies are sold on the market in the name of the original ones. In fact, these fake rubies are sometimes so identical to the originals that distinguishing them becomes a very difficult task. That's why we suggest you choose a trusted source for buying rubies. 
Moreover, you can employ the following techniques to check whether the ruby is real or fake. 
Real rubies are pretty hard- they score 9 on the Mohs scale. If you scratch the stone with a fingernail or sandpaper and it shows marks, it's very unlikely to be a real one. 
Another thing that you can do is take a porcelain plate and keep it on a table. Now, take the stone and drag it across the plate. It's said that a fake ruby might leave a streak of colour behind, whereas a real one won't. 
However, it's also important to note that the absence of a colour streak doesn't necessarily mean that the stone is authentic.  
Natural as well as large rubies are exceptionally expensive. If someone's selling you an extremely large stone at less than the industry rate, you must be cautious. 
Natural rubies are bound to have inclusions. However, synthetic rubies are visually flawless. 
Note that some fake rubies that are made up of glass may have round air bubble inclusions. 
We might have a limited understanding of gemstones however, a trained professional can help you identify the real gemstone and get a good deal. That's why consulting a professional is so important. 
Note that you don't mistake between lab-created rubies and fake ones. Lab-created rubies are chemically identical to natural ones. On the other hand, fake rubies are made from either glass or cheaper gems. They're neither chemically similar to rubies nor have their strength.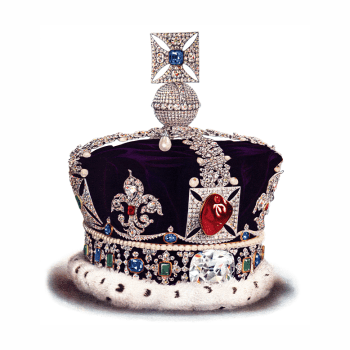 The black prince's ruby is a 170-carat ruby and is set above the Cullinan II in the Imperial State Crown of England. It is one of the oldest jewels that has been a part of the Crown Jewels of the UK dating back to the 14th century.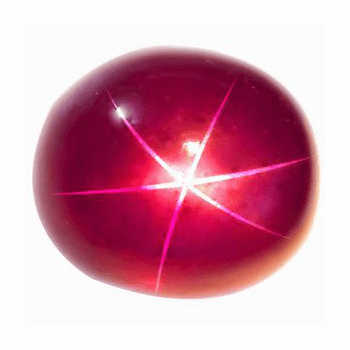 The DeLong ruby is a 100.03-carat ruby that has been kept in the Museum of Natural History, NY. it is a beautiful deep red ruby that exhibits a six-rayed star.
We hope you found value in our blog. If you are looking for the grading of your precious gems and diamonds, you can get in touch with us.
The significance associated with rubies differs from culture to culture. Some cultures believed that the blood-red colour of the stone signifies life. While others believed that rubies bring good health and fortune and ward off evil from a person's life. Also, rubies have always been a symbol of love and passion.