Let's admit, diamonds are expensive. More so, you don't buy them frequently (like your groceries). That said, diamonds are a considerable financial investment and symbolise some important events in your life. How would you know whether the diamond you purchase is of top-notch quality? Also, are you getting the value for your money?
That's why, diamond grading reports are crucial. It tells you what your diamonds' characteristics are and helps you in comparing different diamonds!
Read on to learn more about diamond grading reports!
What Is a Diamond Grading Report?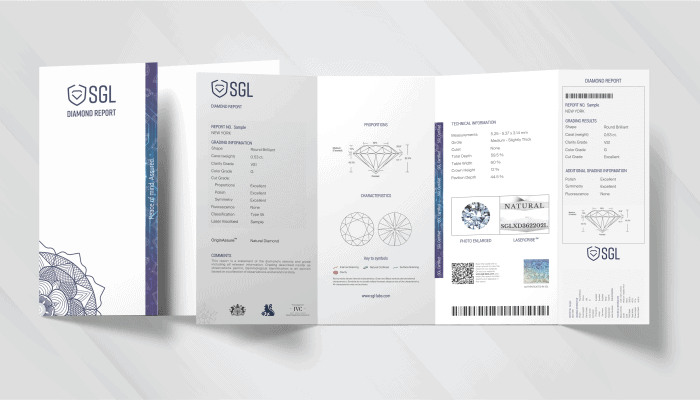 A diamond grading report is a scientific blueprint of the stone's characteristics that helps in establishing its authenticity and quality. 
Although the report explains the quality factor of stones scientifically, an element of subjectivity is always involved. Why? Because after all they are graded by gemologists and the report reflects their opinion of a diamond. Similarly, a lab's grading standard can also affect the report which is why we see discrepancies between grading reports of two or more labs. 
A diamond grading report is different from appraisals and certificates. How? Let's see. 
A diamond certificate guarantees the exact values, grades, and proportions of the stone while a report is quite subjective and grades the stone on a range of values. 

On the other hand, a jewellery appraisal is used in insurance or any after-purchase care. It is not a substitute for a diamond grading report. 
Why Do You Need a Diamond Grading Report?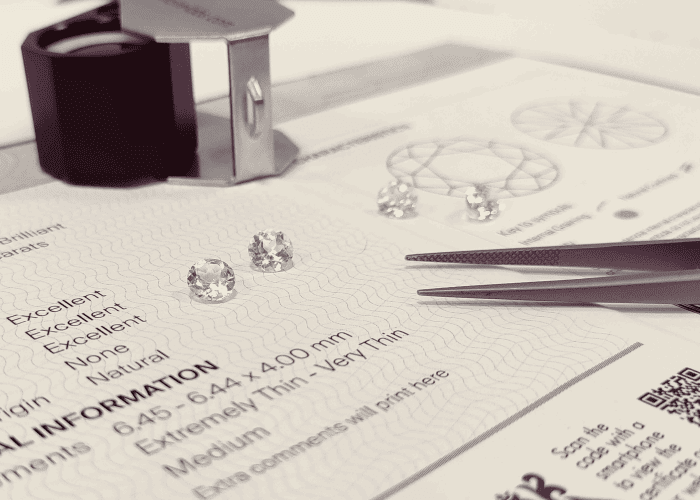 When you purchase a house, it comes with a deed, an automobile comes with a registration certificate, and so on. These documents contain valuable information, (such as the carpet area of your home, or the features of your automobile), that help you in determining whether you are getting value for your money or not. Similarly, diamond reports help you understand the quality of your stone as well as what you're paying for. 
Here are a few reasons why diamond reports are necessary: 
It proclaims if a diamond is natural or lab-grown. Additionally, it traces down from where it is mined so as to help you in understanding its glory. 

In case of theft or loss, a diamond grading report can help in its identification. 

The report offers an intensive analysis of diamonds based on the 4Cs. The 4Cs play a key role in determining the quality and overall appeal of diamonds. Undoubtedly, they're the key factors every buyer must look for before making a purchase. (More on this later)

Further, the report also discloses any colour or clarity treatments done to the diamond so as to help you make an informed purchase. 

While you're willing to sell your diamond, its quality will be assessed partly by the report and partly by the physical appearance of the stone. Since diamond grading reports contain some fascinating details of your diamond, it helps them set apart from the rest. 
What Is Included in a Diamond Grading Report?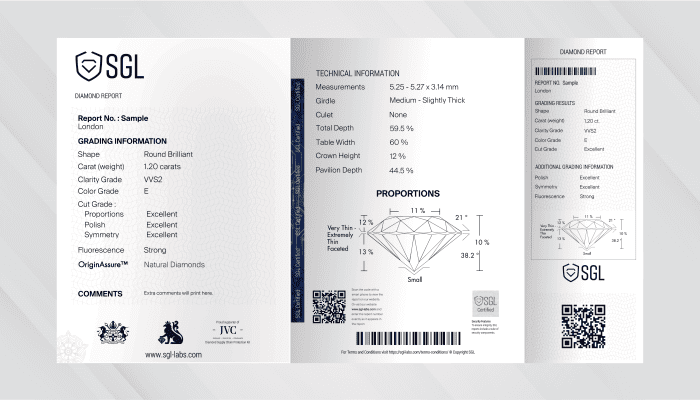 A diamond grading report offers an in-depth analysis of an unmounted diamond. The grading labs have the perfect liberty to determine how this information must be sequenced. However, in general, the following key information is mentioned in any diamond grading report. 
As mentioned earlier, the 4Cs play a key role in determining the quality of diamonds. It includes the following: 
Colour:

The colour of a diamond refers to the hue present in the stone. Diamonds can be colourless but this shade is quite rare and on the expensive side too. A diamonds' colour is graded on the scale of D-F (colourless), G-J (nearly colourless), K-M (faint shade), N-R (very light shade), and S-Z (light colour). 

Clarity:

In simple terms, clarity refers to the lack of inclusions and blemishes in diamonds. It can be graded on a scale from Flawless to Included. 

Cut:

Cut determines how well the diamond's facets interact with light. Skilled workmanship and artistry pave the way for a beautifully cut diamond. 

Carat weight

refers to the weight of the diamond. Don't confuse it with the size. 
Properties of the stone:

The report also mentions the shape, proportions, symmetry, and overall finish of diamonds. 

Diamond treatments:

As you might be aware, diamonds can be treated to enhance either their clarity or colour. The grading report mentions any permanent treatment done to the stone. 

Light Performance:

The cut of the stone plays a key role in determining how the diamond would look under the light. The report mentions the brilliance, fire and scintillation of the stone. In fact, some reports also present a diagram of inclusions that affect how light is displayed on a diamond. 
Also, as per the industry standards, it's advisable to update the diamond grading report every five years.
SGL Diamond Grading Report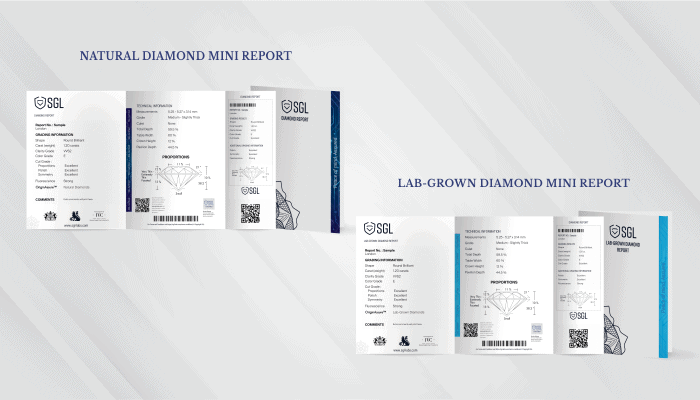 SGL is a reputed, independent and impartial institute that researches and grades diamonds. Further, it aims to educate the masses about diamonds and help buyers make informed decisions. 
SGL's diamond grading report offers a scientific and unbiased assessment of diamonds. It assesses the 4Cs of diamonds and presents a comprehensive report. It claims the authenticity of your diamond and assesses its overall quality. Moreover, it discloses the treatments the diamond has gone through. 
All these factors help buyers make an informed purchase. 
So, if you're looking for a diamond grading report, you know whom to trust!