In this blog, we list down the methods that you can use to check if a diamond is real or fake.
They say diamonds are a girl's best friend. Sure they are; but how do you check whether the diamond you are buying is real or fake? A diamond has to go through a long journey before reaching your finger. 
Original diamonds are 58 times harder than any other material on earth. They are loved and recognized for their beauty. However, there is a contradictory side to the diamonds.
The majority of the diamonds are mined diamonds and with the advancements in technology, some are even lab-created diamonds. Both of these diamonds look identical except that their forms of origin differ.
What Is A Natural Diamond?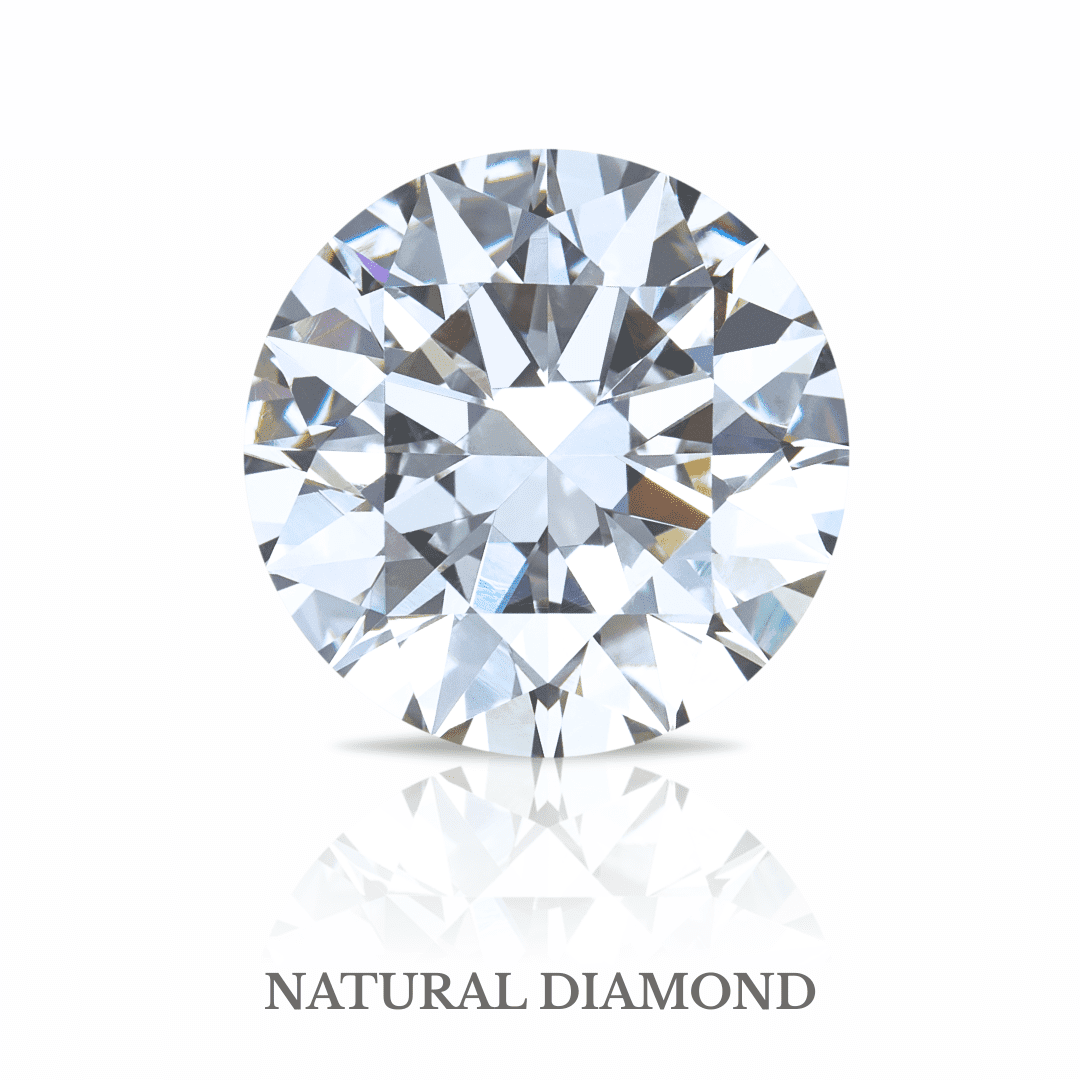 A natural diamond is mined from a deep surface inside the earth's crust. A natural diamond is exposed to high pressure and heat. 
These diamonds are found 100 miles below the earth's surface and are carried upwards with the help of volcanic eruptions known as kimberlite eruptions. After fetching the original diamonds out of the mine, it undergoes a lot of processes such as diamond cutting and shaping, altering the colour, clarity and improving the durability of the gem.
What Is A Lab Grown Diamond?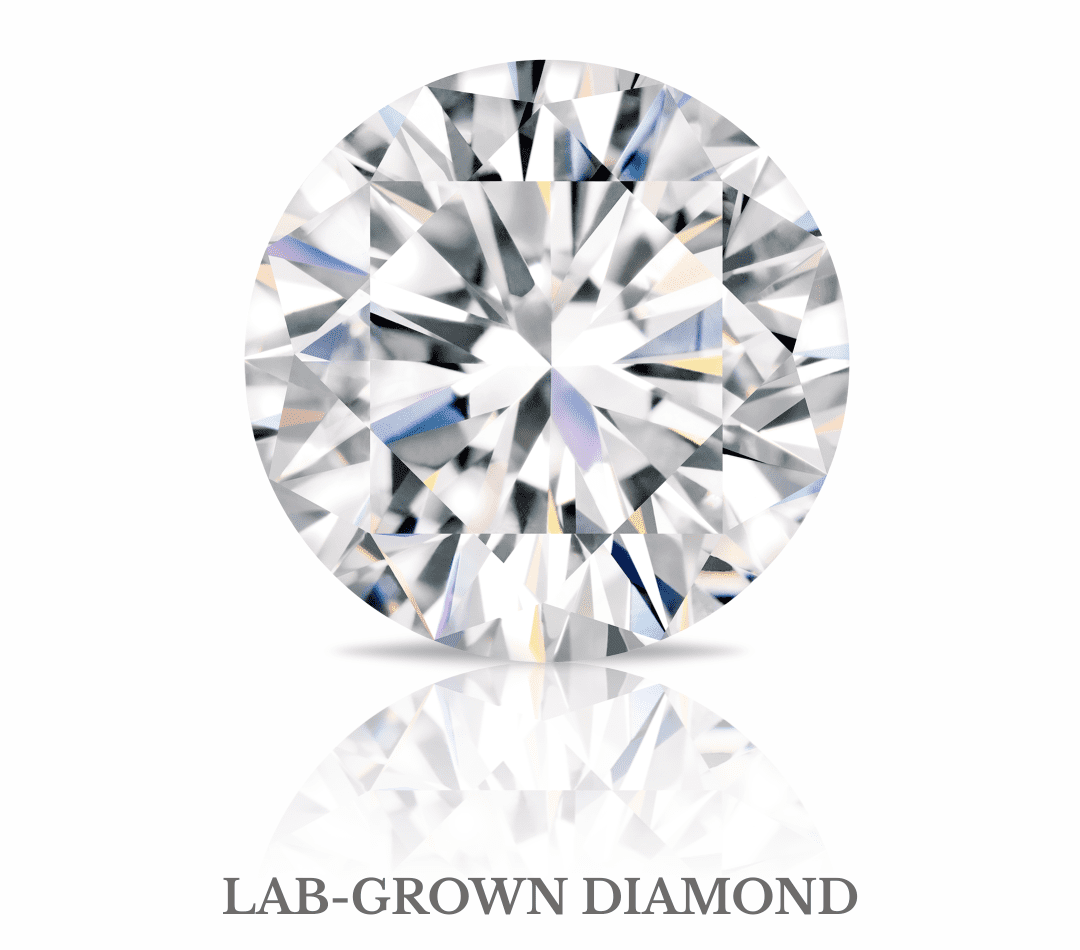 With the help of the latest scientific methods, these lab-created diamonds are developed in a  laboratory using the groundbreaking technique. This process is similar to the natural process of growing a diamond. 
They are often termed as 'synthetic diamonds' due to their uncommon growing process as they are unmined and created in the labs. They are quite similar to real natural diamonds physically, chemically or even in appearance.
In some cases, it becomes quite difficult for the buyer and even the trained gemologists to figure out if a diamond is real or lab-created. Hence, there are a few techniques mentioned below that will help you to know how to determine whether a diamond is real or fake. 
These are some quick tests that you can perform whenever you buy a new diamond. 
1. Conduct the Read-Through Test
To check the refractivity of real diamonds, you can conduct a read-through test. 
Pick a newspaper or magazine with plain black text.
Gently place the diamond upside down on it.
Ensure that the lighting is perfect and there are no objects or shadows of people falling on the surface of the diamond
Now, try to read through the upside-down turned diamond.
If you are able to read all the words of the newspaper or magazine, it is sure that it is a fake diamond. When a ray of light falls on the facets of real diamonds, it refracts the light in different directions and does not pass through a straight line. Hence, one is not able to read through the words on the paper from a real diamond.
This test is most effective to check loose diamonds. However, if the setting of the diamond is proper, you can always try the fog test to be double sure.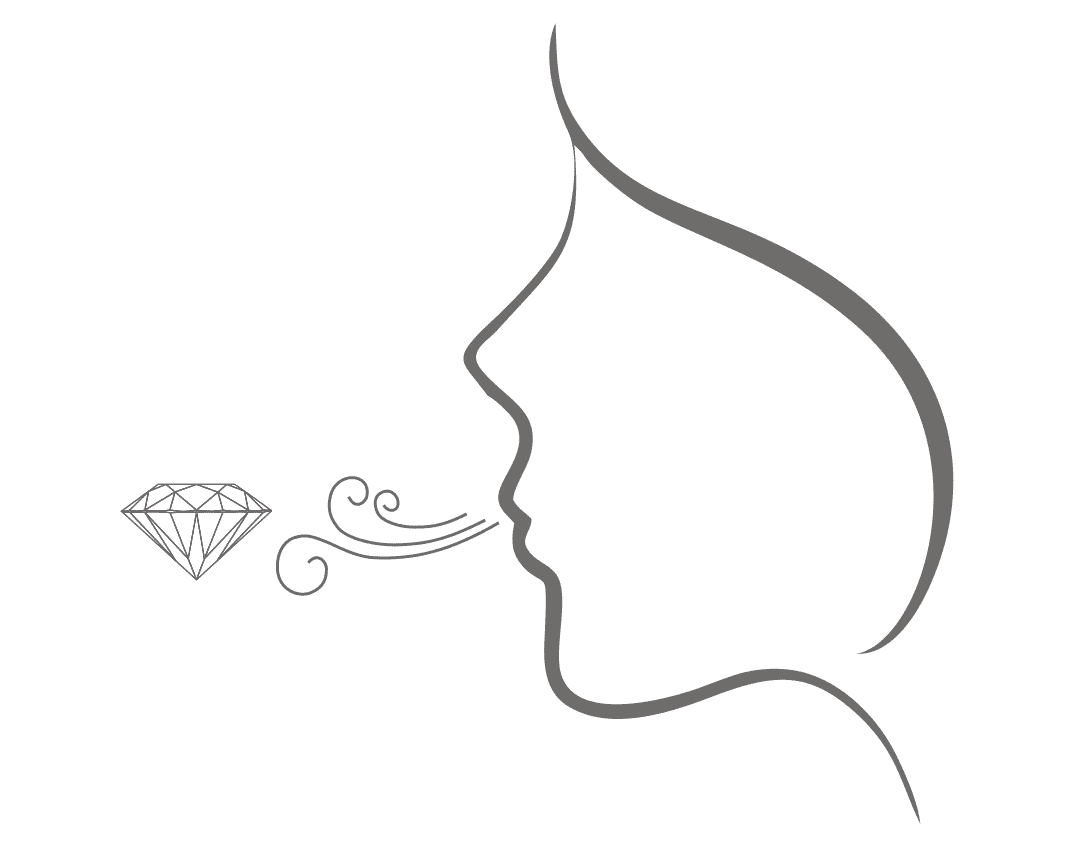 To do a fog test, hold the ring or the diamond with two fingers.
Now, breathe on it or puff an air blow.
Due to the moisture and heat in your breath, a light fog will form on the diamond.
Observe carefully!
If the fog dissipates immediately, it is a real diamond. If it takes a few seconds to disperse, it is a fake diamond.
3. CHECK THE MOUNT WITH METAL MARKINGS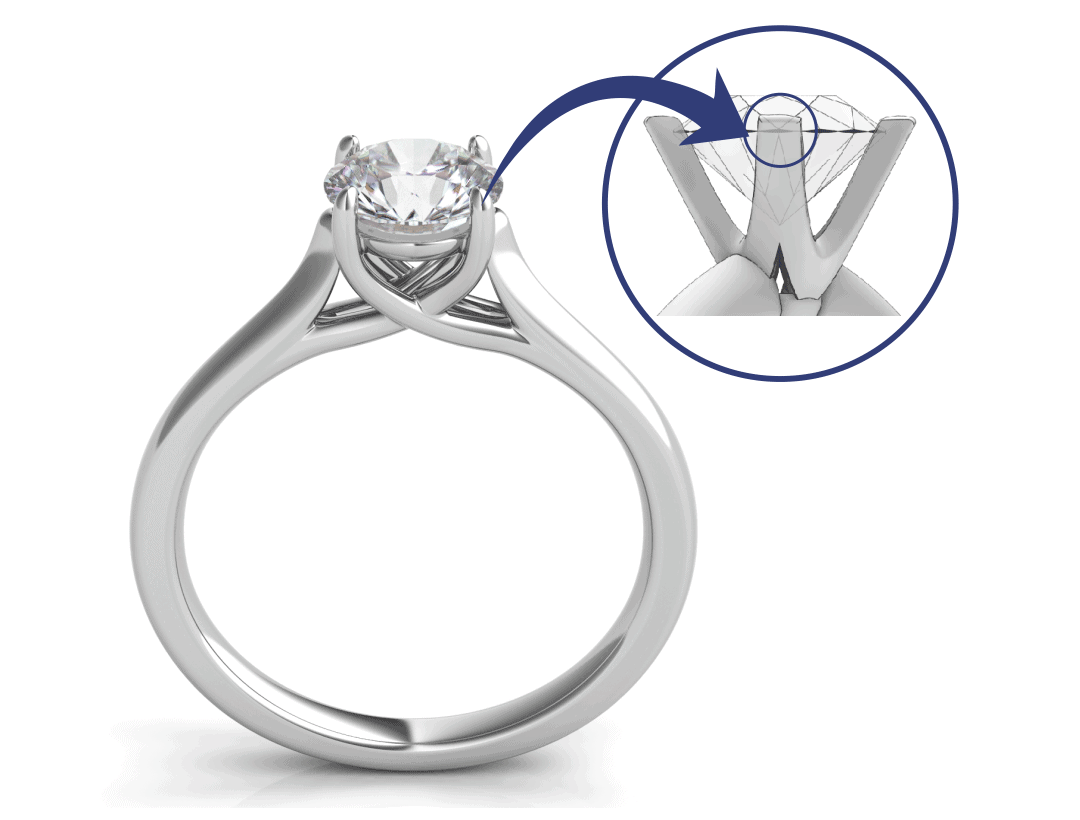 When you purchase a diamond ring, you should always check the setting and mount of the diamond. 
The metal markings can give you a hint of what the gem can be. Hold the ring and take a closer look at the back of the settings or inside the band of the ring. A gem set in silver is generally imitation. But if it is set in white gold, yellow gold, rose gold or platinum, it should be diamond. 
Notes like 10K, 14K, 18K represent the purity of the gold or platinum used. 'PT' and 'PLAT' markings refer to platinum. Numbers like 585, 770, 900, 925, 950 are the other hallmarks you may find on the rings which denote that the gold used in the making of the jewellery is impure. Such a metal is called gold vermeil.
'CZ' indicates that the gem is called cubic zirconia. These are the cubic crystalline form of zirconium dioxide (ZrO2) and are used to make a variety of coloured diamonds. Cubic Zirconia can be transformed into coloured gems with popular cuts and shapes. They are often considered as too perfect and thus are fake-looking as it produces more flashes of colour than an original diamond. Though it lacks natural imperfections like a rare real diamond, people are often mistaken with cubic zirconia assuming it is a real diamond.
If you are not able to identify the realness of a diamond earlier, here are some easy to check home tests on how to check a real diamond.
1. Testing A Diamond With Water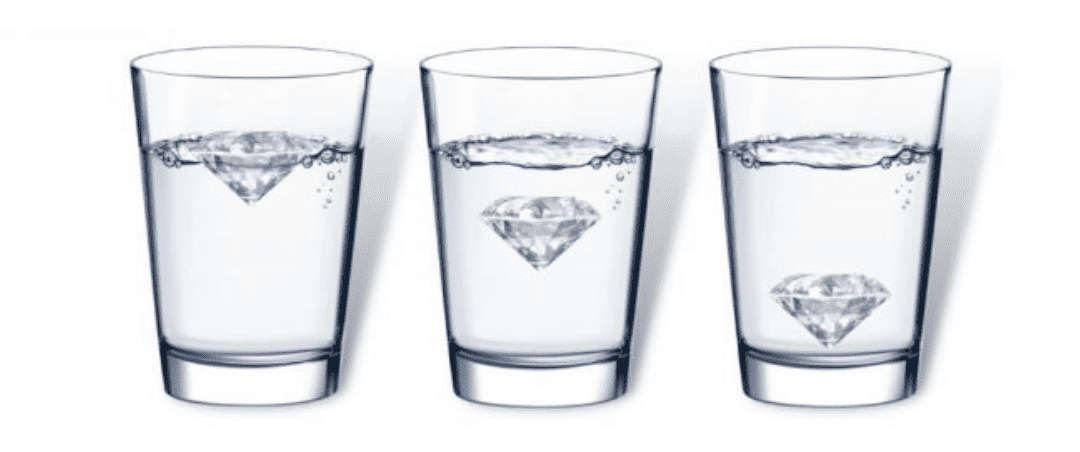 Take a normal sized drinking glass and fill its three-fourth portion with water.
Now, carefully drop the diamond stone into the glass of water.
If it sinks, the diamond is real; if it floats underneath or on the surface of the water, you've got a fake diamond.
This is because original diamonds have a higher density.
2. CHECKING WITH SPARKLE TEST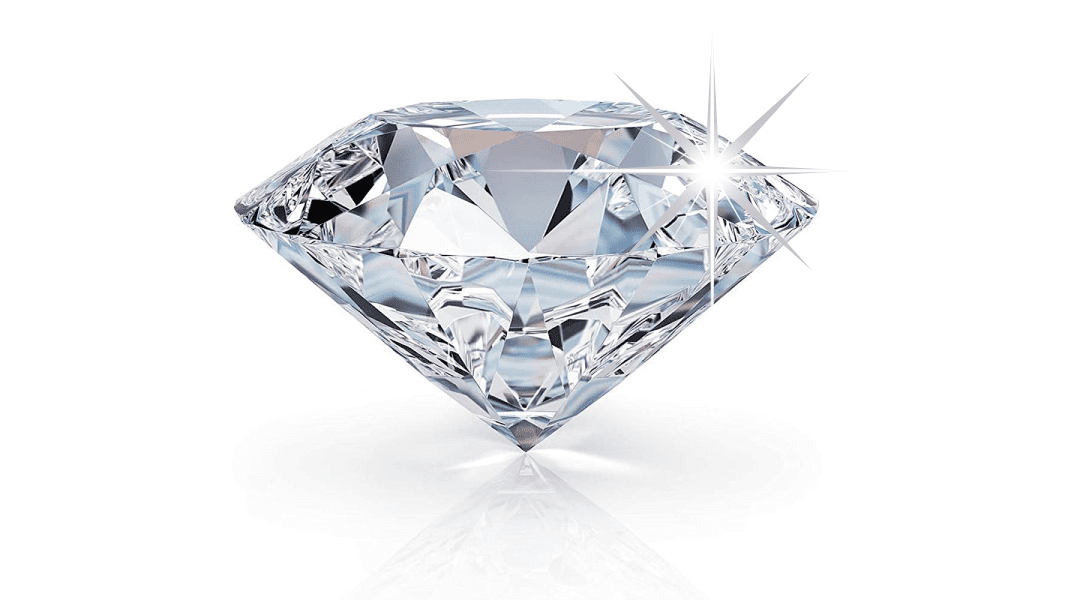 Hold the diamond or the ring under normal lights or a lamp.
Observe carefully how the diamond stone reflects the light.
If you see reflections of colourful light or bright shimmers, these are real diamonds. Real diamonds throw exceptionally bright shine as they reflect white light in all directions. They also reflect coloured light and fire in a spectacular manner. This could be a very good test to identify the cubic zirconia from a real diamond by checking the sparkle of the white and coloured lights it gives off.
3. PERFORMING THE DOT TEST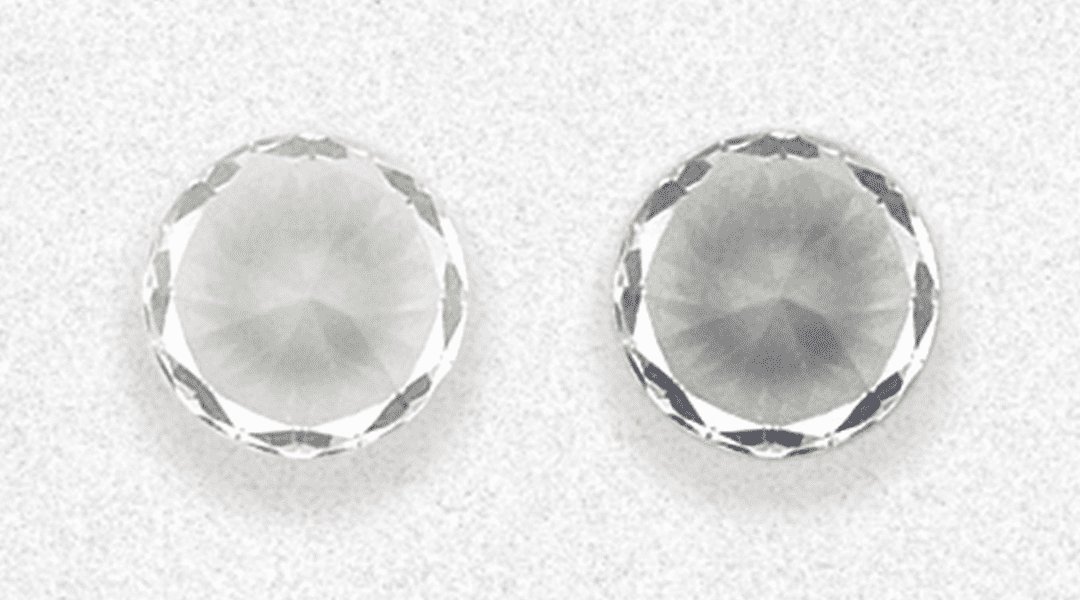 This is a very good alternative to the read-through test to check the purity of a diamond.
Take a white sheet of paper and place it over a flat surface.
Now put a small dot on it with a pen.
Turn the diamond upside down and place it over that dot.
The gem can be declared as a real diamond if you are not able to see the dot or any reflection. You will not be able to see the dot due to the diamond's high refractive index.
4. PERFORMING A UV LIGHT TEST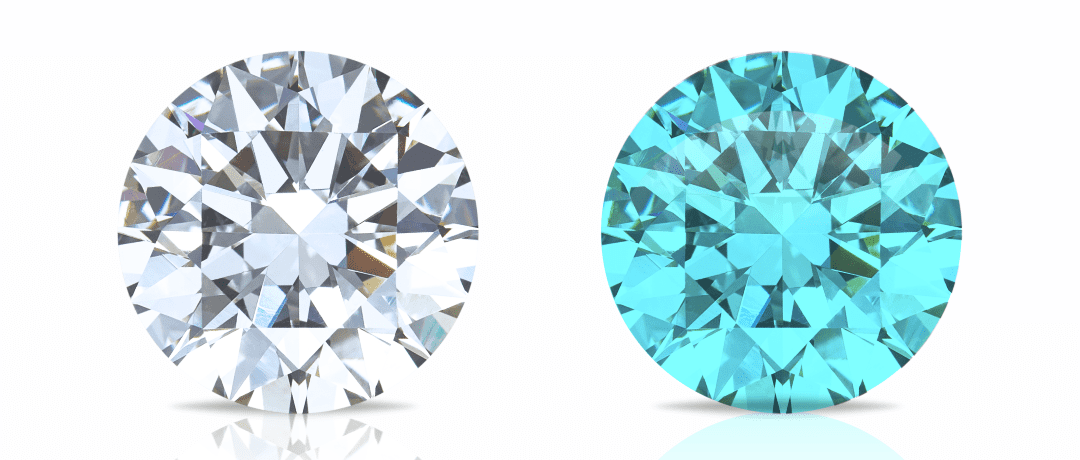 Take the diamond and put it under the UV light and watch carefully
Many of the diamonds will reflect blue light, but some high-quality diamonds do not shine in UV light. It need not be a fake diamond if the gem does not sparkle. Cubic zirconia will reflect a yellow mustard light under UV light and glass will have no sparkle at all.
Since it is not a definitive test, it is better to get the diamonds tested with equipment as mentioned below.
5. DOING A SANDPAPER TEST
Take a piece of sandpaper, wet or dry and place it on a flat surface.
Now, rub the diamond against the sandpaper rigorously.
Be careful not to scrap the setting.
If it is a fake diamond, the end result will be a ruined stone as the gem scratches. As we know, real diamonds are the hardest natural element on the earth, they will have no effect when rubbed against the sandpaper. This denotes that your diamond is real.
Many times it may happen that the diamonds seem so identical that it becomes hard to determine the authenticity of the diamonds.
In such cases where you are not satisfied with the home tests, you can always ask the gemologists to check the purity of a diamond. Listed below are a few advanced techniques used by industry professionals to quickly understand if they are real diamonds or fake.
1. Using A High Profile Weighing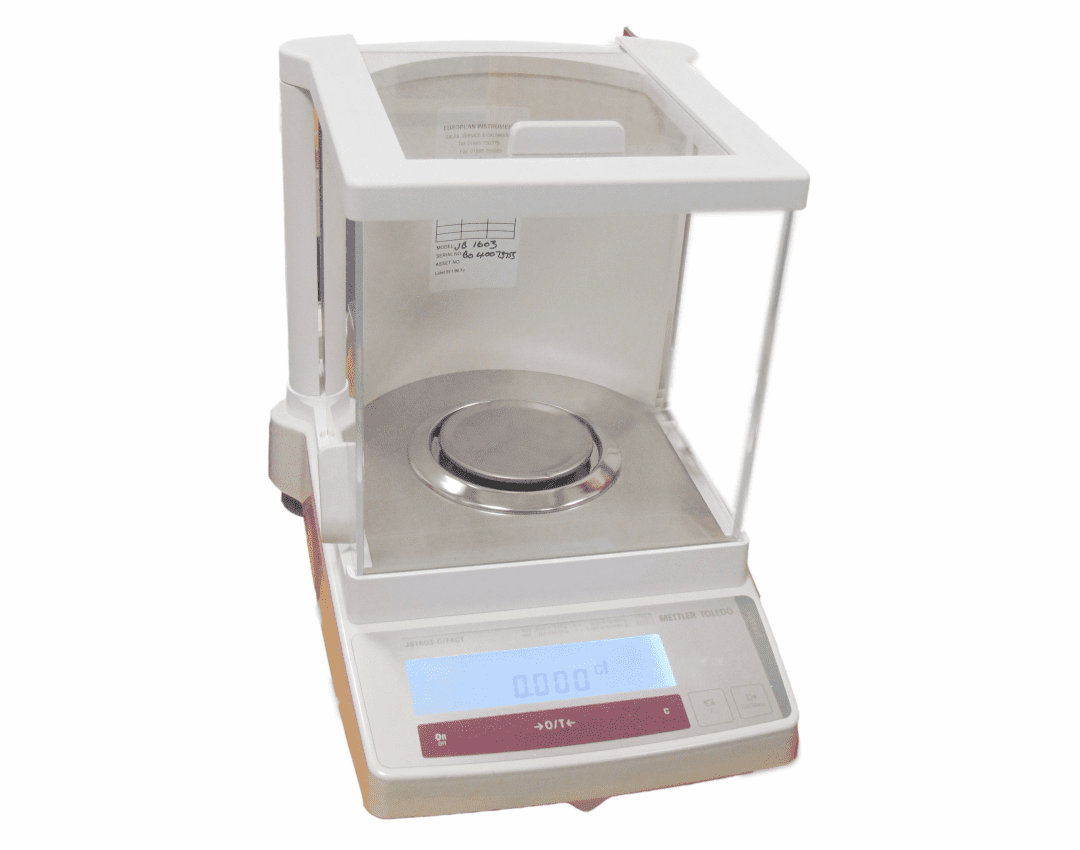 Professional jewellers or diamond sellers use a high profile weighing machine to calculate the weight of the diamonds in carats. This machine is powerful enough to display even the slightest difference between original diamonds and fake diamonds. 
On this weighing machine, they put a stone which is similar in size and shape to that of the original diamond to compare the heaviness.
Real diamonds weigh a little lighter than lookalike diamond-like cubic zirconia. 
2. USING A THERMAL CONDUCTIVITY PROBE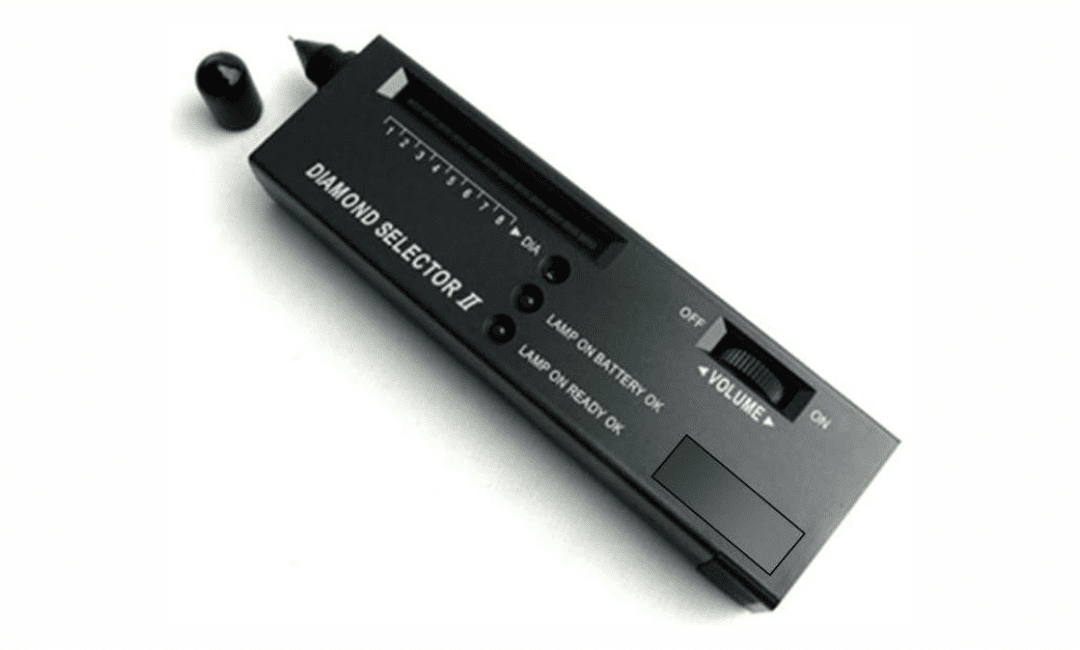 Diamonds are very good conductors of heat. Thus, a thermal conductivity probe, often known as 'The Diamond Tester is used by gemologists for testing the originality of a diamond.
After being warm, if the gemstone rapidly disperses heat, it should be a real diamond. If the gemstone disperses heat slowly, it is a fake diamond.
Buyers can often be confused with synthetic moissanite stones as they conduct heat similar to or equally as the real diamonds do. To make an affirmative decision on buying a diamond, It is always better to cross-check the realness of a diamond with a loupe as mentioned below.
You can get our lab-grown diamond report for a detailed assessment of a lab-created diamond.
3. Examine A Diamond With A Loupe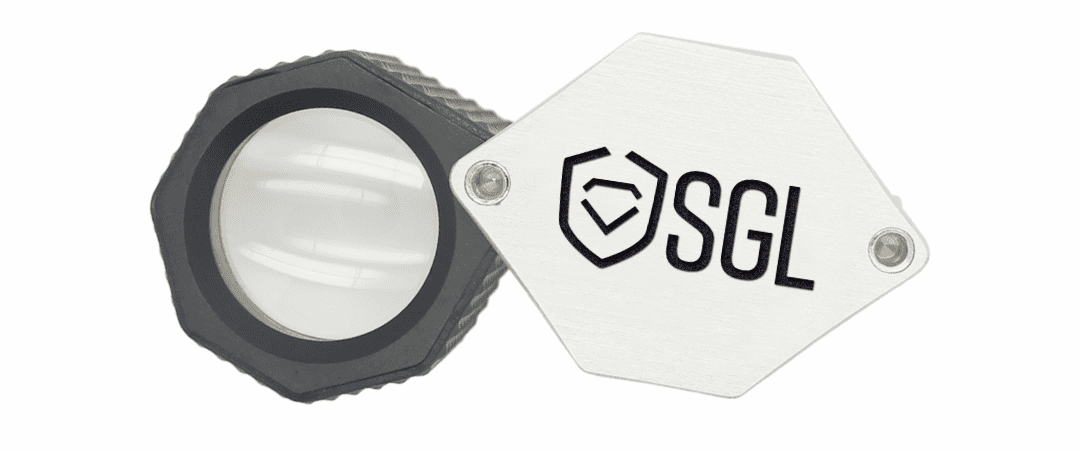 You might have often seen the jewellers observing the diamonds under a special magnifying glass called a loupe. Using this, the experts check the deformity and bruises inside the diamond.
They look for the slightest colour changes and minor flecks of the minerals. If the jeweller finds these signs, it could be a real, though imperfect diamond.
While a lab-created diamond may seem perfect, real diamonds have some flaws in them known as inclusions.
4. DIAMOND EXAMINED UNDER A MICROSCOPE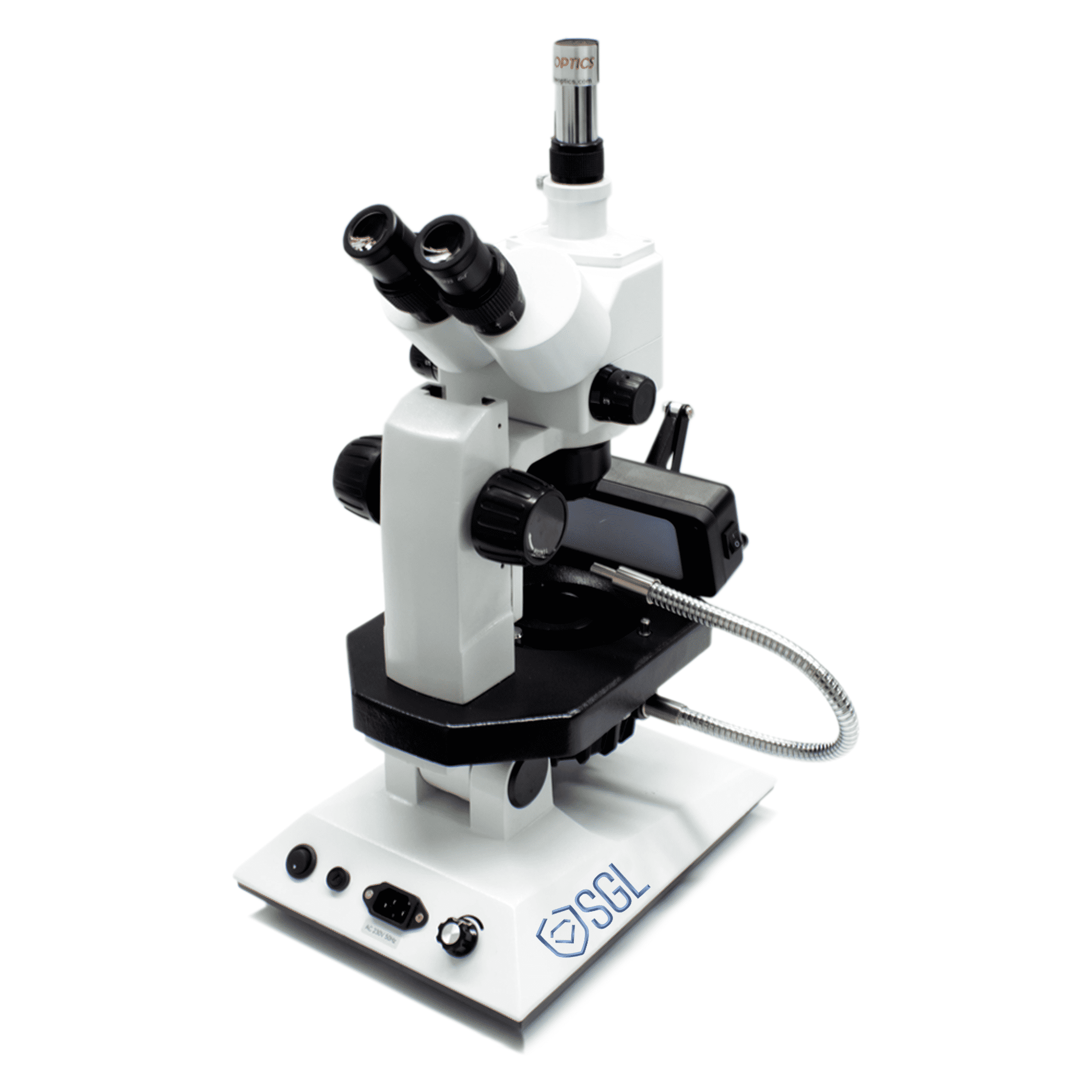 Jewellers often use the microscopic method to ensure the purity of real diamonds.
They put it under the microscope upside down. While observing the diamond, they gently move the diamond back and forth using tweezers. 
If they see some orange flashlight along with the facets of the diamond, it indicates that the stone could be cubic zirconia or that cubic zirconia could have been used to fill in the flaws of the diamond.
Gemologists may use 1200x magnification on a powerful microscope to analyze the purity of a diamond in detail or can even use an X-Ray examination to discover the real diamonds.
5. CONDUCTING THE X-RAY TEST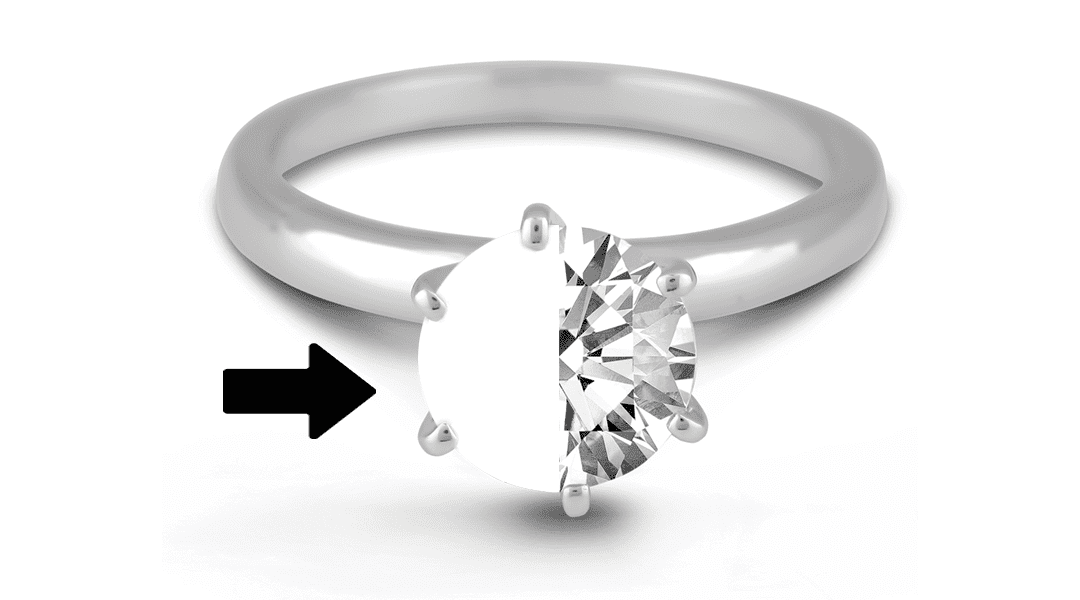 This is a highly advanced technique carried out in a laboratory by experts to check the veracity of a diamond. In this method, the professionals review the molecular qualities of a stone. The X-Ray machine determines if the stone has a radiopaque molecular structure or a radiolucent molecular structure. 
Natural diamonds are radiolucent while the fake ones are like crystals or cubic zirconia and have features of radiopaque molecular structure.
Takeaway
Diamonds are an asset! Since it is your lifetime investment in a diamond, it should definitely be worthwhile. Therefore, you must carry out some of these tests to check if the diamond is real or fake.
Moreover, a diamond certification from a known gemological institute shall get your facts checked. It will help you make an informed decision and surely save you lots of money from purchasing a fake one or identical-looking diamonds like moissanite and cubic zirconia.