Fancy colour diamonds are a very rare subset of diamonds that have bright and captivating colours and occur as distinct precious stones in nature. As compared to their colourless counterparts, fancy colour diamonds have a unique and concentrated colour variant. Fancy colour diamonds can occur in various vivid types, such as dazzling blue, green, pink, purple, and yellow.
They seem attractive because of their rare nature and stunning hues proving their exceptional occurrence. This article explores the various features that determine the worth and desirability of fancy colour diamonds and guides buyers about what to look for when buying them.

The first factor that determines the quality and authenticity of fancy colour diamonds is undoubtedly the intensity of colour. For the precise evaluation of an authentic piece, a dedicated and specialised grading scale is used. The value of a fancy colour diamond increases as its colour becomes more intense and saturated. 
Collectors and connoisseurs hold a strong desire for diamonds displaying vibrant and vivid colours as they exude a captivating allure. It is very important to note that the concentration of the colour in these diamonds is the primary source of their desirability and rare occurrence. Fancy colour diamonds with attractive and rich colours are often considered scarce, which makes them highly sought after.

Fancy colour diamonds can be seen to occur in a wide variety of bright hues, including blue, pink, green, yellow, orange, and purple, among others. They are mostly cool tones that make it harder to replicate. Original diamonds of this kind have a very specific tone to them that can easily be told apart from a fake. The desirability of each shade fluctuates based on prevalent trends and individual preferences.
According to the recent recorded trends, pink and blue diamonds are more searched for, especially coloured diamond rings. This has garnered significant demand in the market. However, green and orange diamonds are considered even more scarce, but they might not be preferred tones for the majority despite their allure and exclusivity. Hence, the enchanting hues of fancy colour diamonds determine their individuality and demand in the market.

The distribution of colour in all types of fancy coloured diamonds is another essential aspect that influences their overall value. In general, the colour must be evenly dispersed throughout the gemstone without any noticeable streaking or inconsistencies. When a diamond exhibits uniform colour distribution, it enhances its visual appeal and value. 
However, stones with uneven colour distribution may display areas that appear lighter or darker, diminishing their attractiveness. Such irregularities can have an impact on the diamond's desirability and market value. Diamonds with well-balanced colour distribution are highly valued. These often command higher prices due to their enhanced aesthetic appeal.

While colour is the most appealing feature, the existence of internal or exterior imperfections, known as blemishes, can affect the diamond's aesthetic appeal and value. It is crucial to remember that fancy-colour diamonds are frequently more tolerant of imperfections than colourless diamonds. 
However, because of their scarcity, fancy colour diamonds with excellent clarity grading, indicating fewer flaws and defects, tend to attract greater prices. Because there are no obvious imperfections, more light can flow through the diamond. This increases its brightness and overall aesthetic attractiveness. 

Just like colourless diamonds, genuine fancy colour diamonds can have a variety of cut styles. The diamond's form, preservation of its original colour intensity, and enhancement of its overall attractiveness are all factors in the decision about the type of cut.
Round brilliant cut, Cushion cut, Radiant cut, Pear cut, Emerald cut, and Princess cut are some typical cut styles for fancy colour diamonds. It's crucial to remember that the choice of cut is arbitrary and might change depending on taste and the particulars of the fancy colour diamond.

Carat weight is one among the 4 'Cs' used in the process of coloured diamond grading. This unit is used to determine how much the diamond weighs. It is also a factor that influences the value of fancy colour diamonds. Therefore, it is critical to determine the carat weight of the diamond to prove its naturality. 
However, in some cases, two authentic fancy colour diamonds having the same carat weight might have differential rates of values. It might depend on factors like colour intensity, shade, and total quality. One of the most vital reasons for this gemstone's fame is its bigger size alongside its colours and aesthetic appeal.
Only a tiny fraction of diamonds have strong and alluring colours. This makes the natural fancy colour diamonds exceedingly uncommon. These diamonds are rare, which adds to their appeal and greater market value.
Due to their scarcity, these gems attract more and more selective buyers and investors. Fancy colour diamonds are more desirable because of the diamond rarity by colour. This makes them desirable investments in addition to being beautiful coloured diamond jewellery.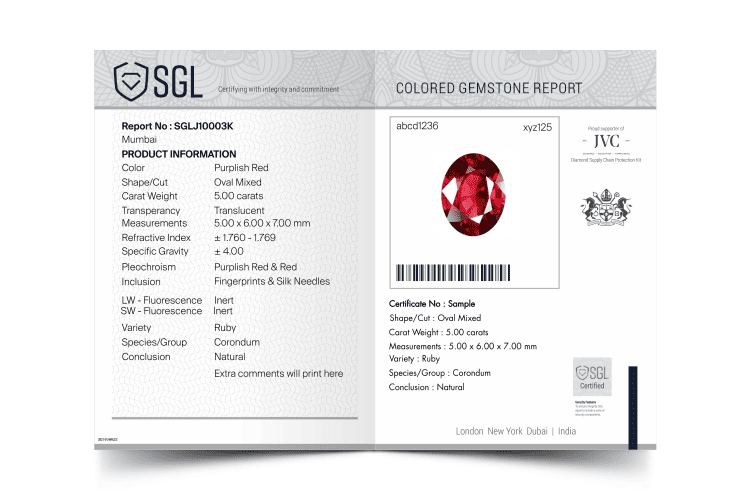 Fancy colour diamonds are an enticing and one-of-a-kind alternative to typical colourless diamonds. Colour grading, rareness, naturalness, clarity, and cut are all characteristics that indicate the genuineness and quality of exotic colour diamonds.
Their beauty and worth stem from their brilliant and unusual colours. This can vary from exquisite pastels to powerful and saturated tints. Buyers may confirm the true nature and value of fancy colour diamonds by getting certificates from recognised gemological institutions. They can also get expert help so that the buyer can purchase a genuinely spectacular and individualised jewel.
Frequently Asked Questions
1. What variables influence the worth of a fancy colour diamond?
The rarity of a fancy colour diamond, the intensity of colour, dimensions, clarity, and cut are all characteristics that determine its value. Colours that are highly saturated and uncommon, such as brilliant blues, pinks, and mild greens, attract greater costs.
2. Is there a certification for fancy colour diamonds?
Yes, fancy colour diamonds may be certified by recognised grading laboratories such as SGL. To be sure of the quality and validity of the information presented, verify that the accreditation comes from a known and credible laboratory.
3. Do the rates for fancy colour diamonds change?
With the dynamic nature of trends, the values for fancy diamonds are always changing. Therefore, if a buyer desires a specific shade and cut of fancy colour diamond, they should look into the recent trends to assess the current values of their choices to get the best prices.