When selecting a December birthstone, you may find yourself pondering over a fascinating trio of tanzanite, turquoise, and zircon. These gems offer a kaleidoscope of colours, from the beguiling blue to the bluish purple of tanzanite, the vibrant blues and greens of turquoise, to the multicoloured marvel of zircon.
Each of these December birthstones presents its unique interpretation of the cherished blue hue. Whatever your colour preference, style or budget, we're here to guide you in choosing the perfect December birthstone for yourself or a loved one.
DECEMBER BIRTHSTONE Turquoise : Significance and Rich History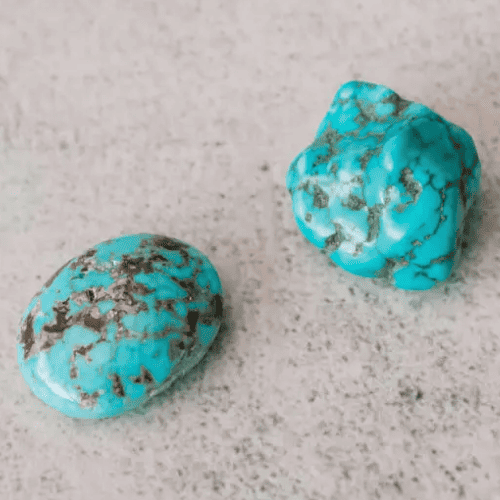 Turquoise, a semi-translucent gem featuring captivating blue and green hues adorned with intricate matrix veins, holds a rich history. Treasured for millennia, it was cherished by ancient Egyptian pharaohs and Chinese artisans over 3,000 years ago.
Believed to possess numerous beneficial powers, turquoise natural stone was considered a protective charm in the 13th century, believed to shield wearers from harm, particularly falls and was thought to shatter when danger approaches. Hindu mystics even maintained that glimpsing turquoise after sighting the new moon promised boundless wealth.
Astrological Benefits of Wearing Turquoise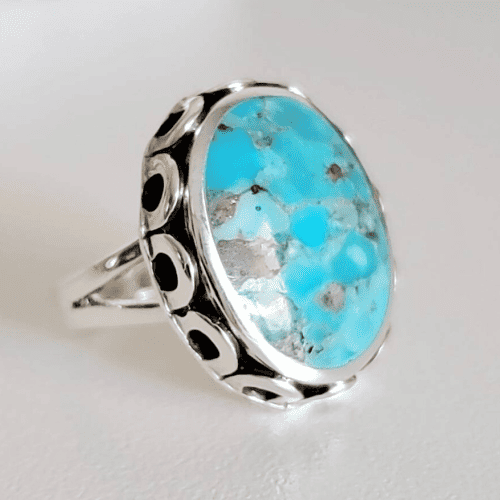 Associated with the zodiac signs Sagittarius and Pisces.

Believed to enhance wisdom, creativity, and spirituality.

Brings peace and protection, promoting balance and harmony.

Wearing turquoise can be beneficial for individuals seeking to improve their well-being.
Birthstone Turquoise: Geographic Roots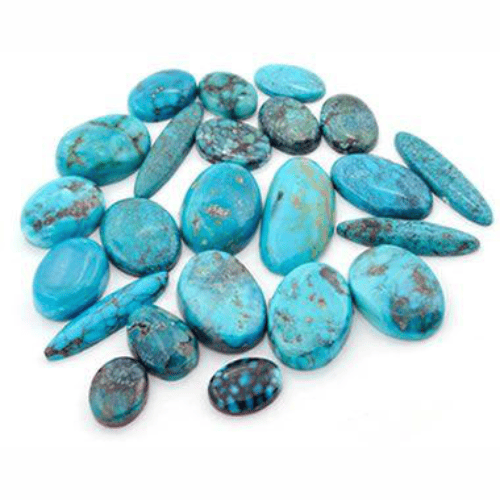 The fascinating turquoise gem, treasured for over 3,000 years originally hails from Iran's Nishapur district, where its extreme blue types earned it the names "robin's egg blue" or "Persian blue." Its journey to other pockets of the world started through the historical trade routes, appreciably the Silk Road, attaining regions together with Egypt, Mesopotamia, the American Southwest, Central Asia, and subsequently, Europe, where it became a loved gemstone. Today, turquoise is mined globally, ensuring its persevered appeal and importance. 
Turquoise Mining in the United States and China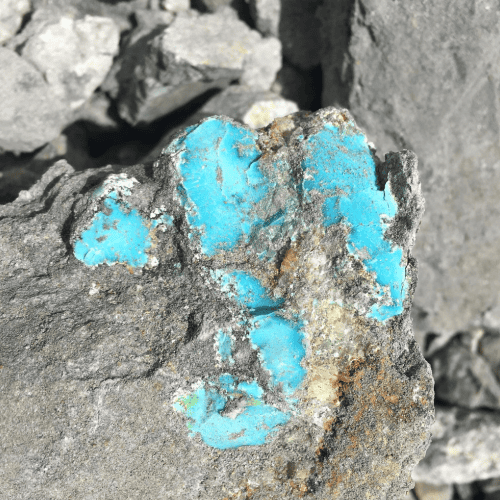 In the early 20th century, New Mexico led turquoise production in the United States. Today, Arizona and Nevada are the primary sources, with notable mines like Dry Creek, Easter Blue, Emerald Valley, and Fox. The Kingman Mine in Arizona is renowned for its intense blue turquoise.
China has emerged as the world's largest producer of December birthstone turquoise. Hubei Province, in central China, is the primary source of gem-quality turquoise.
Caring for Your Birthstone: Turquoise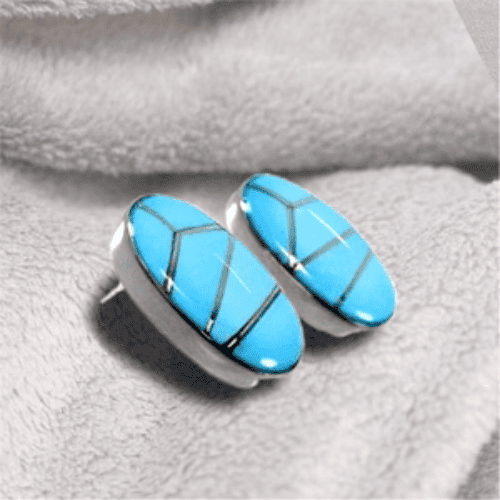 Caring for your turquoise birthstone is essential to ensure its lasting beauty. While turquoise has a Mohs hardness of 5 to 6, making it relatively delicate, some treatments enhance its durability, appearance, and polish. Dyed or chemically enhanced turquoise may have epoxy or acrylic resin additives to increase hardness or intensify colour. In some cases, cavities are filled with metal-loaded epoxy to mimic pyrite inclusions.
To care for your turquoise birthstone, keep away from harsh chemicals, severe temperatures, and daylight exposure. Store it separately, clean it with a tender, damp fabric, and don't forget to restring or reset it as needed to prevent wear and tear harm.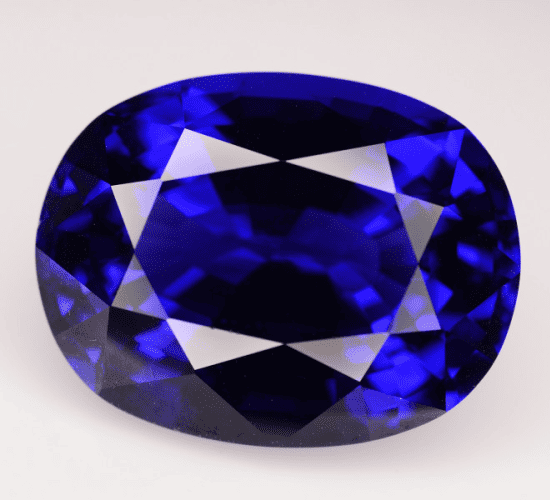 Tanzanite may be a relatively recent addition to the world of coloured gemstones, but it is undoubtedly one of the most exhilarating discoveries of the 20th century. Tanzanite's journey began when blue stones found in Tanzania were identified as the mineral zoisite in 1962. 
It wasn't till 1967 that prospectors discovered the number one source of this December birthstone: the Merelani Hills. In honour of its Tanzanian origins, it was officially named tanzanite. The tanzanite birthstone is usually defined as "velvety" because of its deep, saturated colouration, ranging from natural deep blue to violet, with the blue variations being specifically prized.
Discovering the Origins of Tanzanite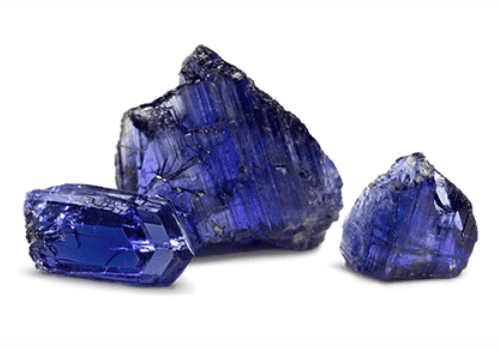 Tanzanite's special source lies inside the Merelani Hills of northern Tanzania, making it the only area on Earth wherein tanzanite is mined commercially. The vicinity's landscape, with its grass-included hillsides, scrub brush, rocky soil, and occasional bushes, sets the stage for tanzanite mining operations. 
The mines reach depths of over one hundred metres (more than three hundred feet) into the earth, with the snow-protected slopes of Mount Kilimanjaro looming north of the mining sites. 
Explore the ethical origins of gemstones with the assurance of SGL's Origin Assure, a distinguished program certifying the ethical sourcing of diamonds.
Astrological Benefits of Wearing Tanzanite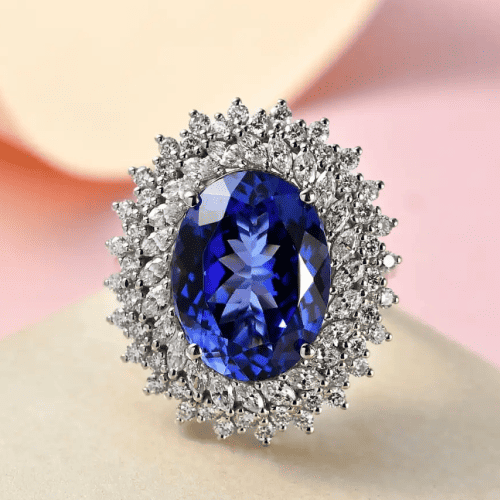 Linked to the zodiac signs Sagittarius, Pisces, and Gemini.

Believed to accelerate attention, psychic capabilities, and a deeper connection with the universe.

Thought to beautify the readability of thoughts and inspire personal and spiritual transformation.

Wearing tanzanite is suggested for the ones looking for personal and religious growth.
Caring for Your Tanzanite: Birthstone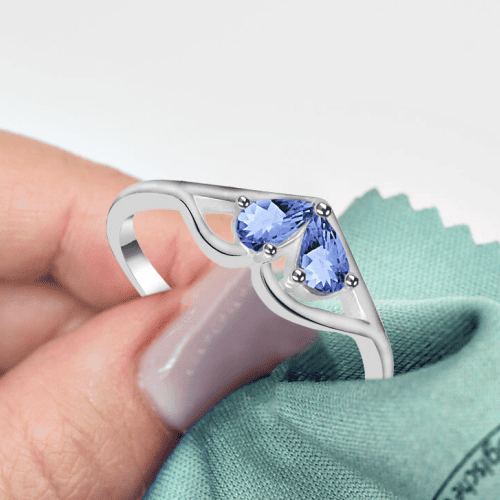 Tanzanite, with a hardness of 6 to 7 on the Mohs scale, displays quality resistance to regular warmth, light, and chemical materials. However, it can crack underneath exposure to severe temperatures or temperature fluctuations and is susceptible to abrasion. The gem is likewise at risk of hydrochloric and hydrofluoric acids.
To keep the lustrous appearance of tanzanite, take care to defend it from hot temperature changes, as it can be liable to cracking. Avoid exposing it to hydrochloric and hydrofluoric acids. To prevent abrasion, keep tanzanite rings one by one and consider periodic expert cleansing and inspection.
Make sure while investing in a gemstone, to get your Gemstone report from a trusted certification partner.
DECEMBER Birthstone ZIRCON : A Gem of Diverse Colours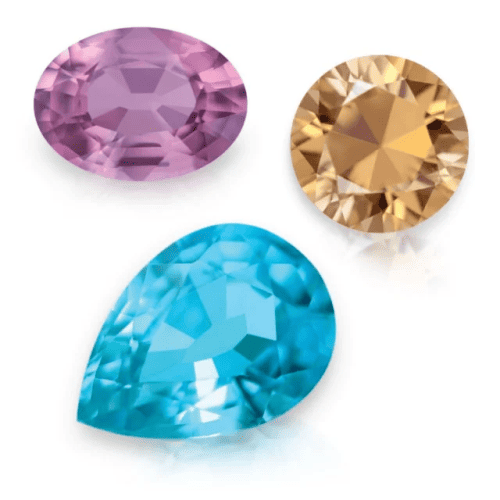 The term "zircon" has an intriguing etymology, with scholars debating its origins. Some suggest it stems from the Arabic word "zarkun," signifying "cinnabar" or "vermilion," while others point to the Persian word "zargun," translating to "gold-coloured." Given zircon's vast array of colours, including red, orange, yellow, brown, green, and blue, either derivation appears plausible. 
Colourless zircon stands out for its brilliance and the mesmerising multicoloured light it emits, known as "fire," which has often led to its confusion with diamonds over the centuries.
Historical Significance of Zircon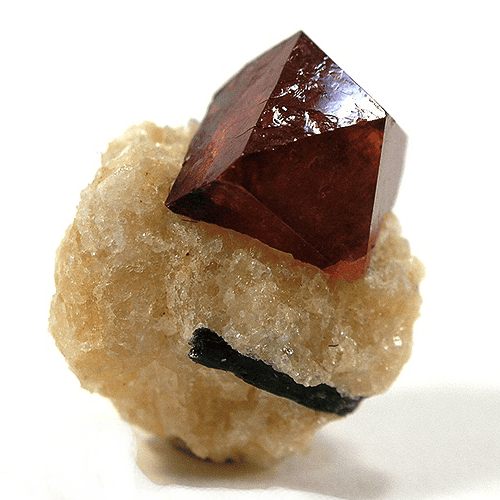 In the Middle Ages, zircon was believed to induce a deep slumber and ward off malevolent spirits. In Hinduism, zircon alternated with hessonite garnet as one of the nine gems of the Nava Ratna, worn together to safeguard the wearer and bestow wealth, wisdom, and good health. Victorian-era enthusiasts particularly favoured blue zircon, with fine specimens adorning English estate jewellery from the 1880s.
Discovering the Origins of Zircon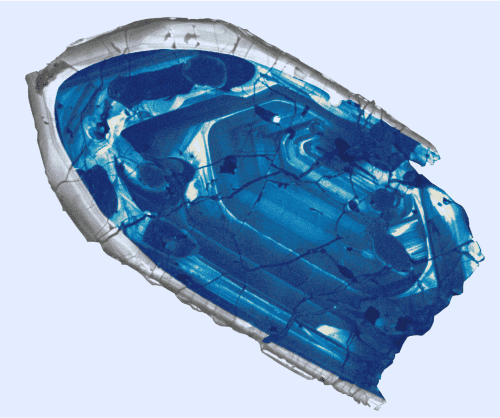 Sri Lanka, known for its wealth of gems, boasts a wide array of gem minerals, including sapphire in various colours, ruby, alexandrite, spinel, tourmaline, moonstone, and quartz. Among these treasures lies the December birthstone, zircon. 
Elahera, a region in central Sri Lanka, serves as one of the country's most prolific sources of this gem. The local landscape features mountains, jungles, and meandering streams, creating a striking backdrop for the extraction of this December birthstone.
Zircon Mining Around the World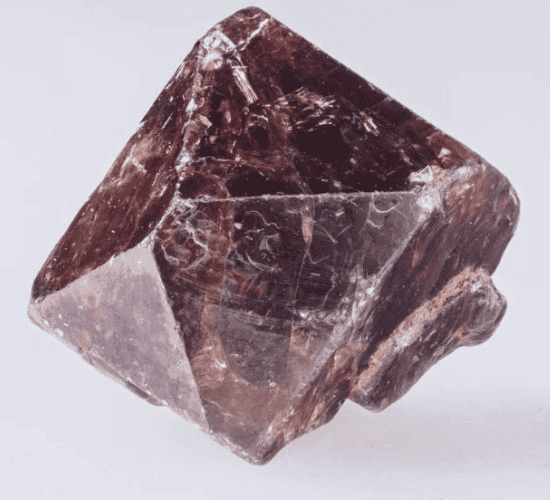 Australia's Harts Range is renowned for producing zircon birthstones in an assortment of colours, including yellow-brown, orangy brown, pink, and purple. The region features open savannahs, dry stream beds, and low-lying hills that extend to the horizon. Zircon Hill is the number one mining site for this December birthstone. 
Nearby, Alice Springs is renowned for its outback lifestyle, aboriginal artwork, and unique sporting occasions, consisting of regatta races held in dry river beds. Zircon is often found in proximity to sapphire sources, with Myanmar, Vietnam, and Cambodia being additional countries where the two gems coexist.
Astrological Benefits of Wearing Zircon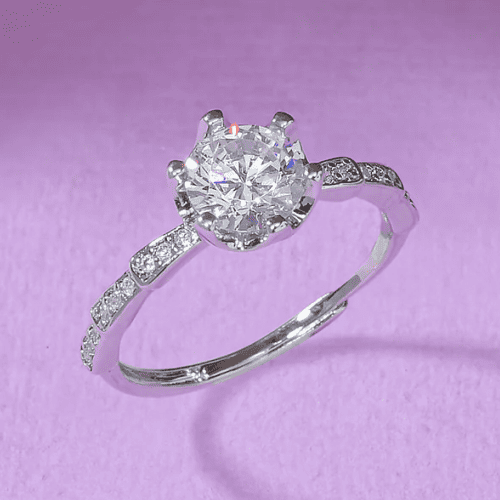 Often related to the zodiacs Aries, Taurus, and Sagittarius.

Believed to enhance self-confidence, awareness, and overall wellness

Thought to deliver clarity and focus to one's mind, boosting mental and emotional power.

Wearing zircon is considered beneficial for those seeking mental and emotional empowerment.
Caring for Your Zircon Birthstone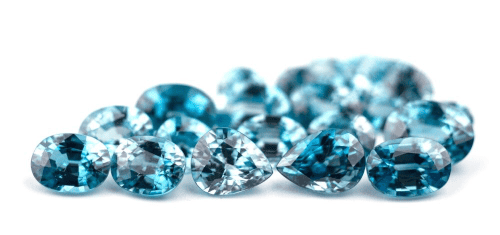 Zircon has a hardness rating ranging from 6 to 7.5 on the Mohs scale. It is frequently heat-treated to produce blue and colourless varieties, as well as orange, yellow, and red hues. 
The gem is generally stable under normal light conditions, but some heat-treated stones may revert to their original colours (typically light brown) after prolonged exposure to bright light. 
Exposure to extreme temperatures can alter the colouration of zircon varieties. The December birthstone is resistant to chemical substances but tends to abrasion.
Protect zircon from prolonged bright light exposure and high-temperature fluctuations, which can affect colour. Store them individually to save their abrasion, and wipe them with a gentle, damp cloth to maintain their brilliance.
Conclusion On DECEMBER BIRTHSTONE
Whether you lean towards the brilliant appeal of turquoise, the velvety richness of tanzanite, or the colorful brilliance of zircon, SGL offers an array of birthstones to select from. 
Each gem encapsulates a unique history and attraction, offering you a large number of alternatives to reflect your individuality. When you're geared up to embark on your quest for the correct December birthstone, ensure to consult our gemstone buying guide for a hassle-free and informed buying experience.
Hope you enjoyed this blog. Learn more about other birthstones  in our COMPLETE GUIDE ON THE BIRTHSTONE GEMS
Can I wear a different birthstone if I don't like the one for my birth month?
Yes, you could put on any birthstone, but your birthstone is assumed to deliver you more good fortune and benefits. If you want to explore other birthstone options, check out our dedicated blog on – LIST OF GEMSTONES: GUIDE TO 13 POPULAR GEMS
Are these birthstones only for December-born people?
While they're mostly related to December, anyone can enjoy and gain from these stunning gems.
Can I wear all three December birthstones collectively?
Yes, combining these stones can create a lovely and meaningful jewellery piece.
How can I ensure that my birthstone is genuine?
Consult a reputable jeweller and request a certificate of authenticity to ensure you have an authentic gem.
Do these birthstones have healing properties?
Many accept as true that these stones have their own restoration and metaphysical properties that may benefit the wearer.