Imagine you're walking down the street, and your eyes fall upon a lustrous diamond ring on the display of a pleasant jewellery shop. Spellbound by its beauty, you stand and stare at it, thinking how beautiful it might look on your loved one.
Back to reality! 
Finding a perfect fit for diamond jewellery can be an overwhelming task. You need 
to persistently look for eye-catching and heartwarming pieces that are truly worth your investment! With tons of varieties of diamond shapes, colours, and cuts, getting nonplussed is undeniable.
But, does buying diamonds have to be such an arduous task? 
Not anymore! In today's blog, we'll guide you through the process of budgeting, selecting the best diamond, and getting the bang for your buck. Sounds interesting, isn't it? 
So, let's dive deep into a complete diamond buying guide.
Step 1: Budgeting is Essential!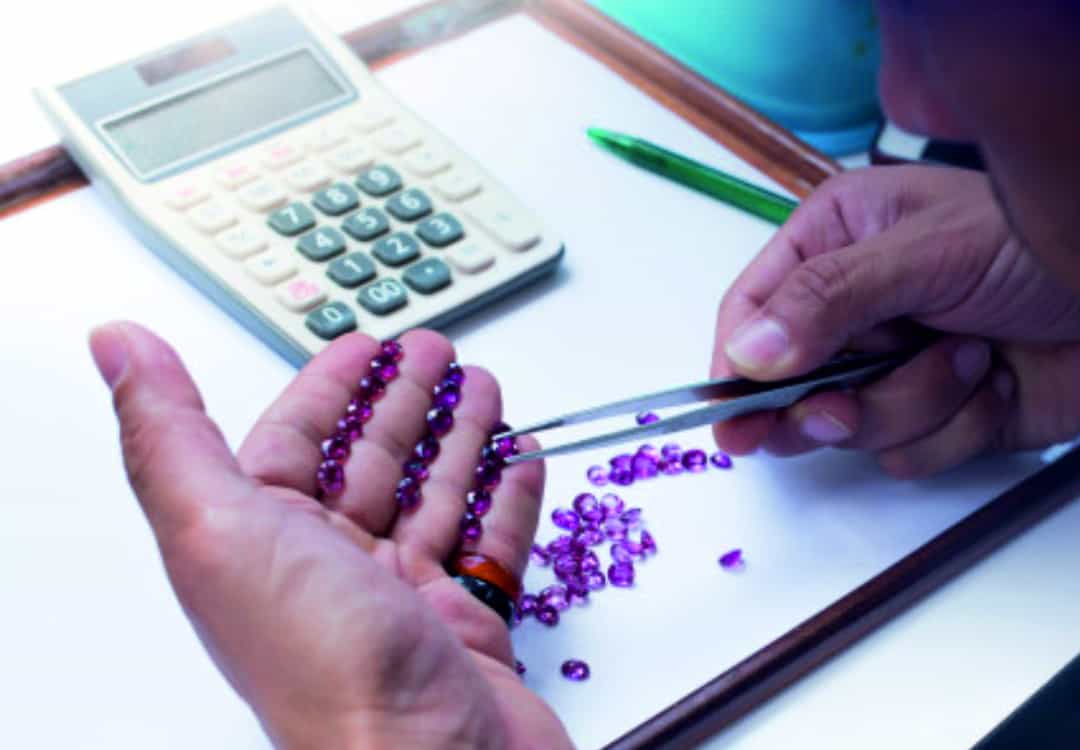 There is no denying the fact that diamonds are expensive, here's a simple trick that can help you to get your desired diamond within budget. 
Try this!
After checking your finances, write down the maximum amount you can afford to spend on diamonds. This will help you to set bars and ensure that you do not exceed this limit. 
Now, check and compare the prices of your desired diamond jewellery on different platforms. If the price exceeds your budget, you may have to compromise on diamonds. However, compromising doesn't mean you would have to buy the cheapest diamond available. 
Here, you need to understand that higher carats diamonds are usually of higher price. Compromising a bit on carats while ensuring the shape, cut and colour of your choice can help you get your desired diamond jewel within your budget. 
Pro tip: You can even compare the prices of lab-grown diamonds and natural diamonds to get a better idea. 
But, are lab-grown diamonds real and reliable? 
In truth, lab-grown diamonds are chemically as well as physically alike to natural diamonds. Moreover, lab-grown diamonds are certified and recognized. Thus, lab-grown diamonds are as authentic as natural diamonds.
Step 2: Explore and Select the Diamond Shapes
Once you've put your budget in place, let's go ahead with the diamond selection. 
Let's start with choosing a diamond shape! 
A diamond shape is essentially the outline of a diamond or how a diamond looks from top to bottom. It's the most distinguishing and identifiable character of diamonds. Here are some popular and enticing diamond shapes to select from.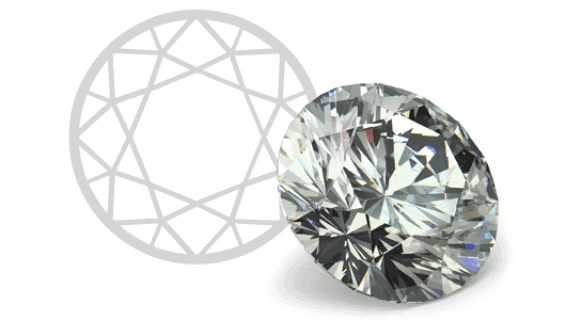 If you're looking for a diamond with a classic, elegant and timeless aura, a round brilliant cut is a perfect fit for you! 
With 57 facets, it offers maximum brilliance and an overall chic appearance. What's more?  It's one of the most popular diamond shapes.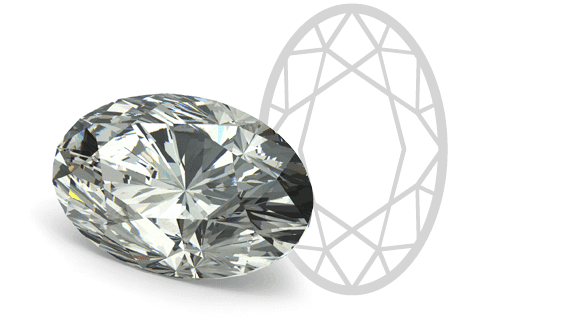 Are you willing to try something more fashionable than classic round diamonds? Oval Diamonds can be a sound choice! 
With 56 facets, elongated shape, and maximum brilliance, oval diamonds are ruling the hearts of today's modern generation! 
3. Emerald-Shaped Diamonds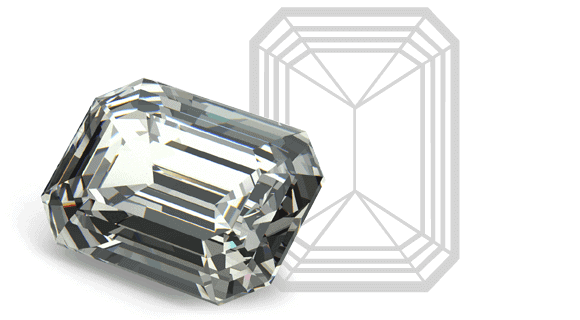 If you're looking for classic diamonds with maximum brilliance and rectangular shape, Emerald diamonds are the perfect fit! 
Popularly known as "step cut", emerald diamonds consist of 58 facets that offer eye-catching shine. Since inclusions are easily visible on these diamonds, it is advisable to look for emerald diamonds of very distinguished quality. 
4. Princess-Shaped Diamonds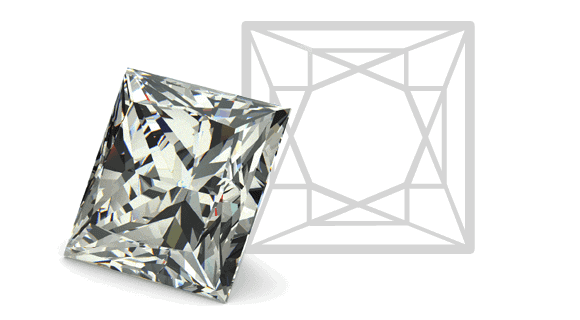 It comes in a square or rectangular shape with almost 76 facets to ensure maximum sparkle. Interestingly, more than 80% of rough diamonds get utilized while making princess diamonds. Thus, it is environmentally friendly. 
Also, princess diamonds are comparatively less expensive than traditional round-shaped diamonds of equal weight.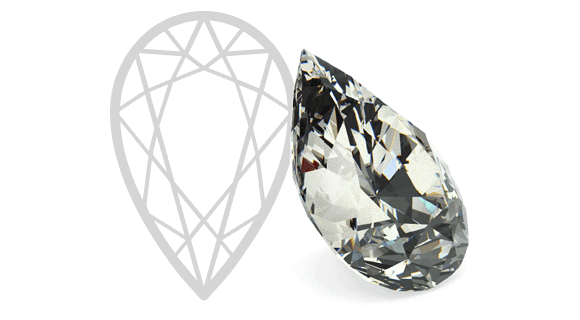 Similar to a water-drop, pear-shaped diamonds are the growing choice for pendants and rings. With 58 facets, rounded and pointed edges, this diamond shape exhibits an eye-snatching brilliance. 
6. Cushion-Shaped Diamonds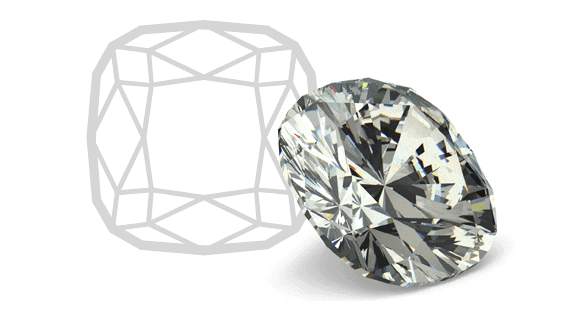 Somewhat similar to the princess shape, cushion diamonds are typical of a square shape with rounded corners. Also known as the "pillow cut", this set of diamonds consists of 58 facets to offer maximum brilliance. 
Moreover, rings and pendants with cushion-cut diamonds have a snob appeal in the market!
7. Asscher Shaped Diamonds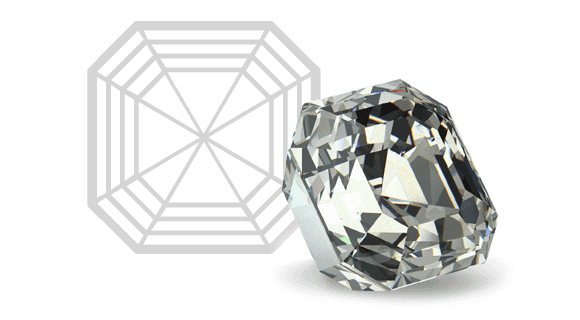 This type of diamond is octagonal and resembles a blend of princess cut and emerald cut. With numerous steps and an X-shaped facet on the center culet, the Asscher cut offers a timeless effect.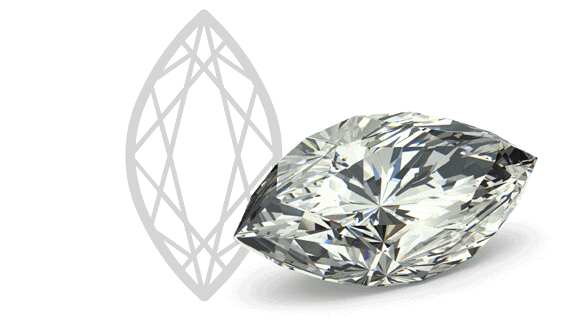 If you're willing to step out of your comfort zone and try a bold and creative diamond shape, the marquise shape is ideal for you! 
Also known as "boat cut" or "eye cut", this diamond shape complements long and slender fingers in rings. What's more? The elongated body of marquise diamonds can make its appearance larger than its actual carat weight. 
You can read our blog on diamond shapes to know in detail about different diamond shapes and cuts available in the market.
Step 3: Educate Yourself About the 4Cs of Diamonds
Done with selecting a diamond shape? It's time to adjust your glasses (if you have any) and grab your note pads! Why? Because this segment is the turning point of your diamond selection process!  
The 4Cs of a diamond is of prime importance in determining the quality as well as the value of a diamond. 

In simple terms, carat is the actual weight of the diamond. A diamond of one carat weighs around 200 milligrams, which is equal to 0.2 grams. 
Interestingly, many people mistake the weight to be the size of a diamond. However, it is not the case. The weight of the diamond can be expressed in carats while the size of the diamond is always expressed in millimeters or 'mm'. 
Generally, carat plays a crucial role in determining the price of a diamond. Higher the carat of a diamond so is its price. 
However, it is also possible to have two diamonds of equal carat weight differing in price and quality. How? Maybe because of the impact of the other three Cs on a diamond.

In simple terms, the colour of a diamond refers to the hue present inside the diamond. However, the more colourless a diamond is the higher its value. 
While some diamonds are naturally coloured as pink, red, green, or yellow, others often get a colour during the refinement process. 
Moreover, there also exists a variety of lab-treated coloured diamonds such as lab-grown black diamonds. 

Since diamonds are formed deep inside the earth bed in response to extreme heat and pressure, it develops certain inclusions (blemishes). These inclusions may be in the form of fractures, tracts of minerals, or uncrystallized carbon. 
Diamond clarity refers to the amount, size, and placement of these internal and external inclusions on a diamond. In short, it tells you how many inclusions your diamond contains. 

In simple terms, a diamond cut is an external factor of beauty or the quality of workmanship done on a diamond. It refers to the quality and proportion of the facets that vastly affect a diamond's face-up appearance. 
Moreover, the brilliance and the quantity of light reflecting or refracting on a diamond depend on its cut. 
Step 4: Learn about the Colour Grade Range
Now, as you've understood the core part, let's go one step ahead and learn about the colour grading system of diamonds. 
D-F (Colourless)

 

This set of diamonds is considered to be the whitest and purest of all. Though there is a slight difference of colour among these three diamonds, it cannot be perceived by a naked eye. Moreover, these diamonds command a high price in the market along with having a snob appeal among the customers. 

G-J (Nearly Colourless) 

This category of diamonds contains a very slight hue that is often imperceptible by an untrained eye. These diamonds are less expensive than colorless diamonds but attract a huge amount of customers. 

K-M (Faint Yellow Colour)

Faint yellow diamonds are those with a slight tint of yellow in them. Very few buyers prefer these diamond shades. Thus, they have lower demand in the market. 

N-R (Very Light Yellow Diamonds)

 

This set of diamonds has a perceptible yellow or brown tint in it. Since very few people prefer these shades of diamonds, they have low demand and comparatively less price. 

S-Z (Light Yellow Diamonds) 

Light yellow diamonds do not fit into the category of 'white diamonds'. They have too much yellow color in them which fails to attract any buyer. 
Step 5: Take Into Account The Clarity Grade of Diamonds!
A diamond's clarity is one of the most distinguishing factors of its beauty. It also impacts its value in the market. Thus, before buying diamonds, it is advisable to understand the clarity grading system of diamonds. 
Check out the following table to get a fair idea! 
Flawless (FL)

Completely flawless with 0% of inclusions or blemishes under 10x magnification. 

Internally Flawless (IF) 

No visible inclusions. Only 3% of all the diamonds available in the market have a clarity range of IF.  

Very Very Slightly Included (VVS1 and VVS2) 

Though inclusions are there in these types of diamonds, they're not easily visible. 

Very Slightly Included (VS1 and VS2) 

In this set of diamonds, minor inclusions often imperceptible to the naked eye are available. 

Slightly Included (SI1 and SI2)

 

Here, inclusions are perceptible when studied closely. 

Included (I1, I2, and I3)

 

Inclusions of varying degrees perceptible to a naked eye are visible on these diamonds.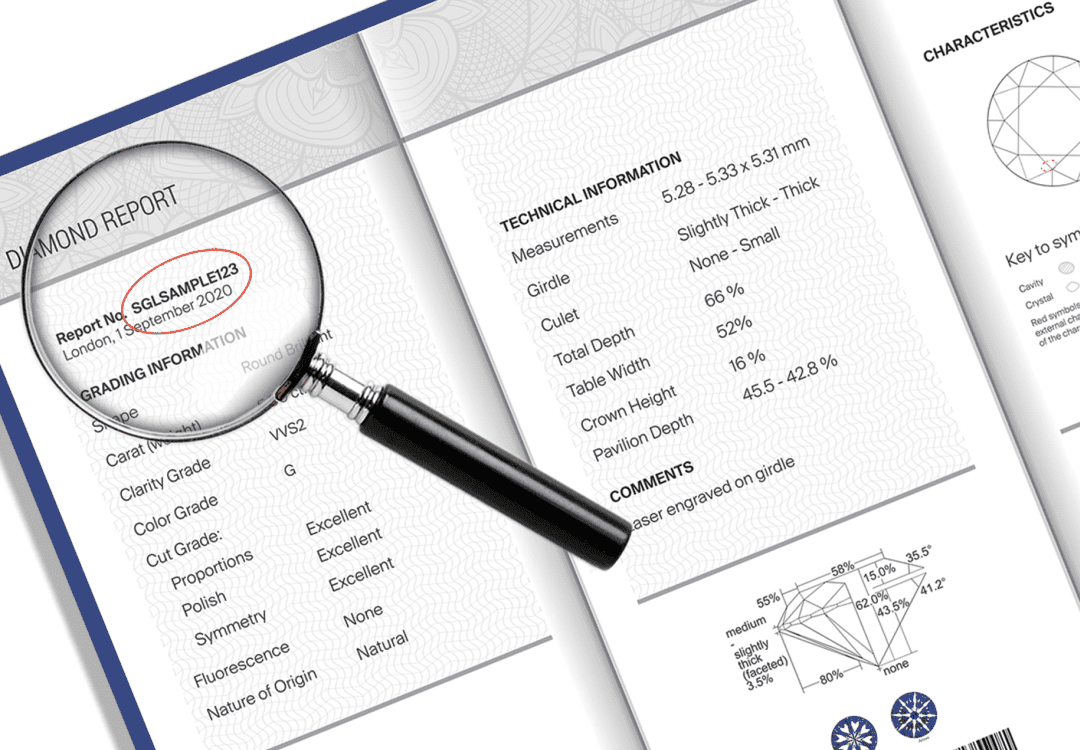 Before purchasing a diamond, always ask for its report to get a fair idea of your piece.  
Diamond grading reports are of utmost importance. They act as proof of the authenticity of a diamond and offer a detailed lab assessment. 
Please note that the certificate doesn't show a diamond's market value. It merely reports a diamond's graded quality. Moreover, it is also helpful while purchasing the insurance of your  diamond.
Step 7: Getting the Opinion of a Gemologist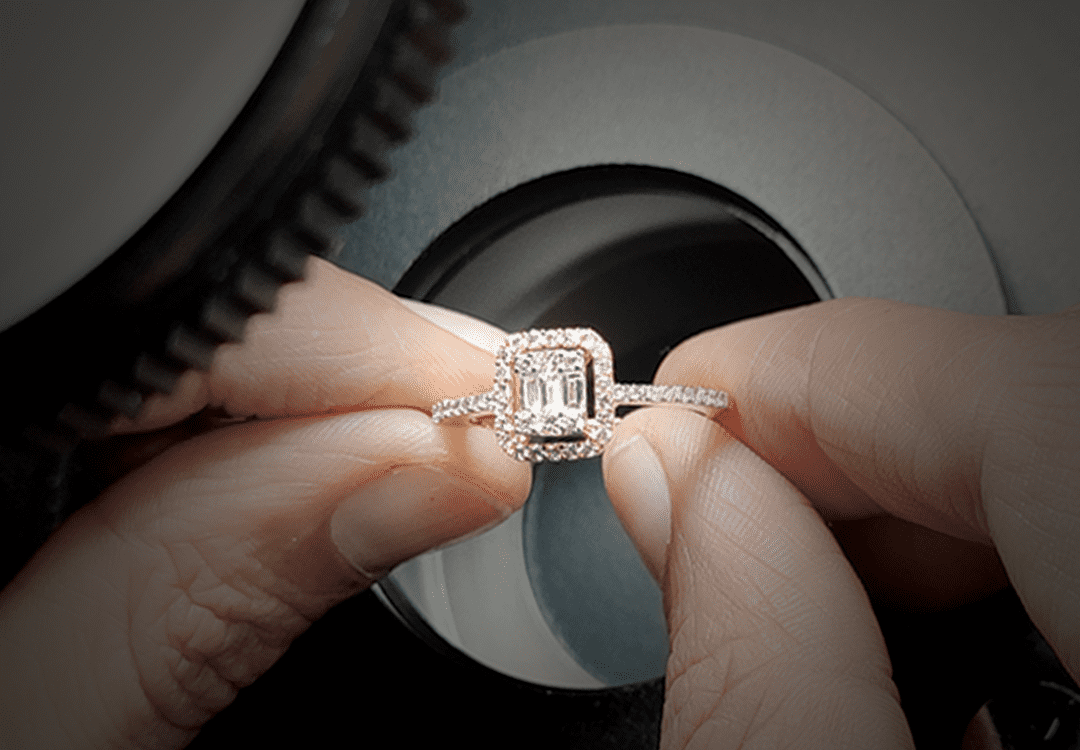 Before investing in diamonds, it is advisable to contact expert gemologists and get their opinion. While selecting a gemologist, look for highly qualified individuals. These experts will help you to understand the 4Cs of diamonds in detail, compare pieces and choose the best fit for you within your budget. 
What's more? Experts may also explain the differences in apparently similar-looking diamonds to help you make a sound decision. 
Step 8: Compare a Bunch of Diamonds to get a Better Idea!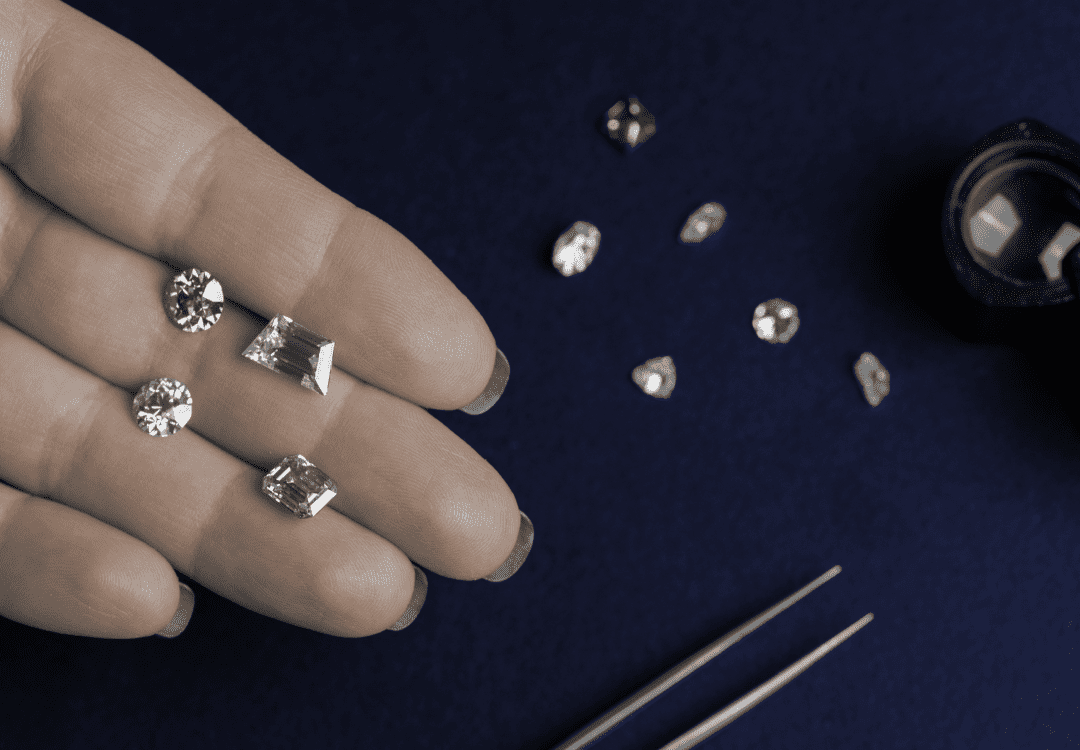 While shopping in the grocery market, do you pick up the first thing on the aisle and buy instantly? Obviously, NO! We tend to compare similar products and then make a purchase. The same is the case with diamonds! 
Once you've narrowed down your desired diamond, you can research on them and compare their features. While comparing you can note a diamond's fluorescence (shine), the 4Cs, polish, symmetry, price, design, and make decisions accordingly. 
Also, you can always walk into a nearby jewellery shop to check the diamonds in person.
Diamond purchasing experience can be enhanced manifold with a little bit of research, a clear set of budget, and a good understanding of the vital characteristics of diamonds. The 4Cs of diamond play a crucial role in determining its value and assessing its quality. 
Moreover, you can always take the help of experts in the field and compare different diamonds at your ease to get a fair idea!