Birthstones, which act as mystical companions for each birth month, have powers comparable to zodiac signs. People seek these jewels for good luck, protection, and enhanced attributes. Birthstones, formerly admired for their mysterious abilities, now shine as modern fashion statements. They generate strong ties with birth months all year, and are loved for their charm.
What is the July Birthstone?
July birthstone simply means that the birthstone is associated with the month of July. The birthstone for July is Ruby. This gemstone is special and unique; it signifies passion, love, and vitality. Ruby is a popular stone in astrology too as it is believed to bring courage and strength to its wearer. The fiery red colour of the stone makes it an attractive piece of jewellery that is in high demand.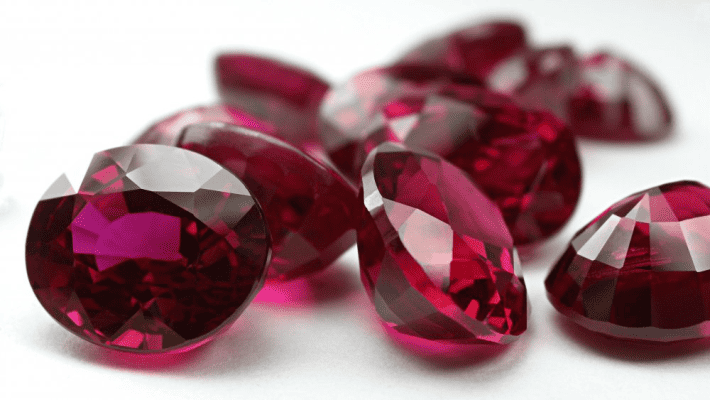 The Red Birthstone was known as the "king of precious stones" in ancient India as it was believed to possess mystical powers and predict misfortune or cure diseases. Rubies can be of different sizes and shades; there are several types of ruby and several names of rubies too. These symbolise power and youthful energy. Hence, rubies are lustrous and hold a special place in people's hearts, serving as a symbol of love and strength to overcome life's challenges with positivity.
What Are July Birthstone i.e. Rubies Used For?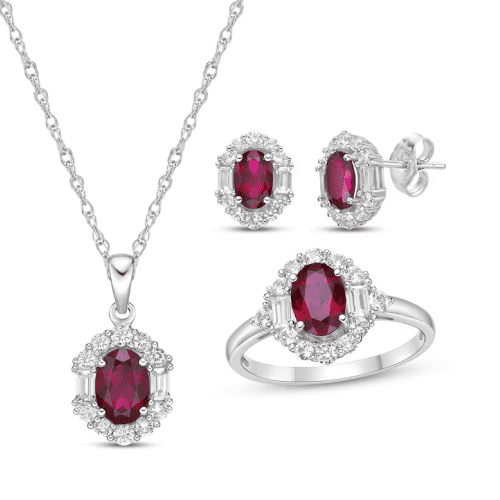 Rubies are highly valued and widely used in various ways due to their exceptional beauty and unique properties. The following are a few of the most significant uses for rubies:
Jewellery –

Due to their vivid colour, rubies are highly sought-after in fashion jewellery. They are often used as centre stones in bracelets, earrings, necklaces, rings, and other jewellery. Recently, the ruby pendants have gained a lot of popularity. 

Investment –

Fine rubies may be considered an investment. Fine rubies are a preferred option for investors and collectors because they have the potential to appreciate in value over time.

Spiritual and Symbolic Purposes –

In many cultures and traditions, rubies are believed to increase strength and vitality, protect against bad luck, and bring good luck. Some wear rubies as a talisman for their spirituality or because they think they have metaphysical qualities.

Pigeon Blood Rubies are highly sought after because of their intense, vibrant red colour. They are the most valuable and sought-after type of ruby. Pigeon blood rubies are extremely rare and command high market prices. 
Real Rubies are genuine and natural gemstones, revered for their deep red colour and exceptional beauty.
The Black Prince's Ruby is a famous 170-carat ruby that is part of the British Crown Jewels. It has a long history, dating back to the 14th century, and is set above the Cullinan II diamond in the Imperial State Crown of England. The Black Prince's Ruby is known for its large size and remarkable presence.
Thailand is another significant producer of fine-quality rubies. Thai rubies are known for their deep, rich, and even colouring, along with exceptional clarity. They are widely known for their beauty and quality. 
Various African countries produce rubies collectively known as African rubies. Mozambique rubies are particularly noteworthy, with deep red colour and good quality, some even approaching the benchmark of "Pigeon Blood Ruby." Madagascar rubies are also highly regarded for their deep red colour and quality.
Star Rubies are a unique variety that displays a phenomenon called asterism, where a star-shaped pattern appears due to needle-like inclusions within the crystal. These rare and captivating rubies command attention and are highly valued by collectors and enthusiasts worldwide.
Rubies mined from Myanmar, particularly the Mogok region, are highly regarded for their quality and historical significance. Burmese rubies are known for their rich red colour, exceptional clarity, and high value in the gemstone market.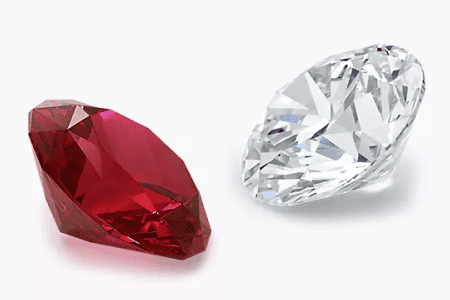 The Diamond is made of carbon subjected to extreme pressure and heat deep underground. It is widely known for brilliance, durability, and versatility. It is both colourful and colourless. Found in various countries like Botswana, Angola, South Africa, Namibia, Australia, Russia, and Canada, this beautiful stone represents power, strength, and love.
Whereas Ruby is a deep red gemstone made of corundum. The gemstone is known for its hardness and durability which symbolises passion, love, and good fortune. Now, let's compare both on essential points –
Price:

Diamonds are generally more expensive, while rubies can vary greatly based on quality and colour.

Clarity

: Diamonds can be nearly flawless, while rubies often have unique beauty despite some flaws.

Cut:

Ruby cuts tend to be shallower with fewer facets, maintaining the integrity and showcasing the red hue.

Colour

: Rubies are vivid red due to chromium concentration, while diamonds vary in colour, with colourless being rare and valuable.

Hardness

: Diamonds are harder than rubies, making diamonds more resistant to wear.

Rarity

: Diamonds are more common, formed deep in the Earth's mantle, while high-quality rubies, especially over one carat, are rare and expensive.
Both diamonds and rubies possess their own allure and charm, offering unique qualities that make them sought-after and cherished gemstones.
Rubies are highly versatile gemstones that find their place in the world of jewellery, investments, spirituality, decorative objects, and historical artefacts. Their striking red colour and symbolic significance make them a treasure. If you are someone who loves to know all about rubies, don't miss reading our detailed blog on ruby gemstone.
What is the significance of rubies?
Rubies symbolise life, bring good health and fortune, ward off evil, and represent love and passion.
Are rubies suitable for everyone?
Rubies can be worn by anyone, but astrologically they are recommended for those for whom the Sun is beneficial.
On which hand should rubies be worn?
Rubies are traditionally worn on the right hand, but they can be worn on any hand as per personal preference.