Emeralds- The Birthstone of May
In today's blog, we'll unleash the meaning, history and mystery surrounding May Birthstones – Emeralds. Additionally, you'll learn certain peculiar legends and myths behind Emeralds. Read on to know more!
Every month has a unique birthstone attached to it. For April borns, it is Diamonds and for December babies it is Topaz. In the same way,  Emeralds have been prized for their colour, beauty, and shape. Not only that, emerald jewellery has been worn as statement pieces by famous personalities for ages.
May birthdays fall in the heart of the spring, and the lustrous green colour of Emeralds emanates the perfect vibes. Further, they're the official gemstones for celebrating the 20th and 35th wedding anniversaries.
What are May Birthstones?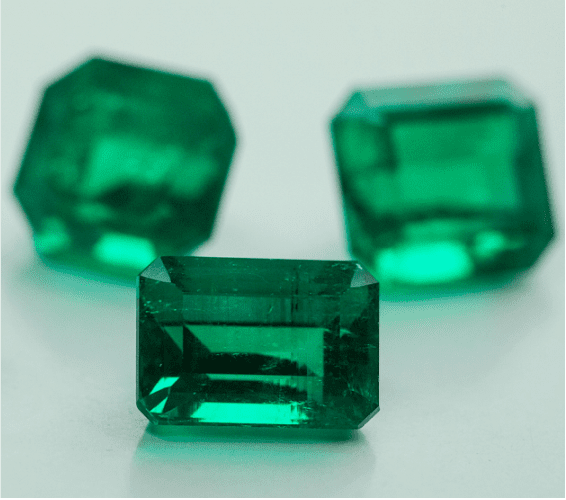 May Birthstones, Emeralds, have been the fancy of women for ages. Its beauty has attracted people to it for centuries and it has been revered for possessing magical powers. From curing illnesses to offering good fortune, the May Birthstones have stood up to the test of time and are famous even today.
If you are someone who loves to read about gemstones in-depth, do read our article on List of gemstones.
Meaning of the term 'Emerald'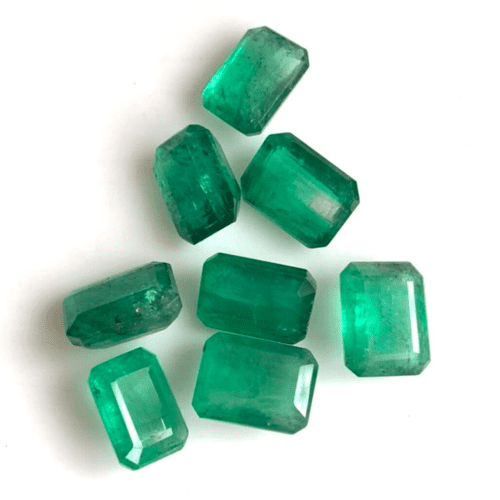 The English word Emerald owes its origin to the old French word '

esmeraude'

which stems from the ancient Greek word '

smaragdos'

which means a gem. 

For centuries, Hindu teachings have associated the planet Mercury with Emeralds. However, the westerns are different in this regard. They associate it with Planet Venus. 

As quoted rightly by Pliny the Elder, "nothing greens greener" than an Emerald.
Where are Emeralds found?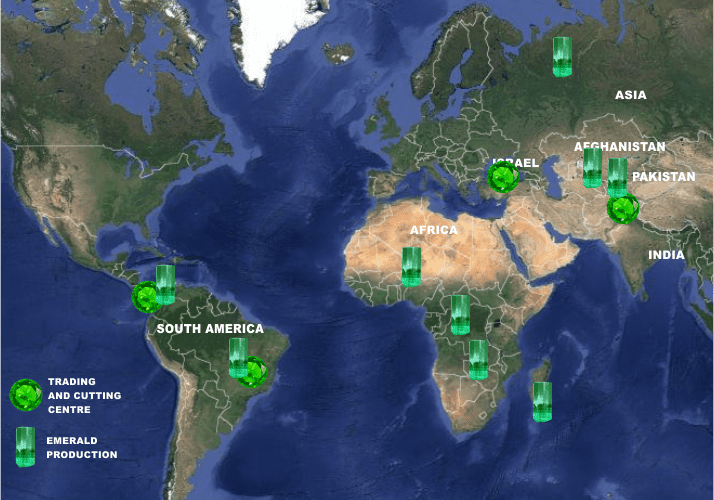 For more than 500 years, Columbia has been the largest and finest producer of Emeralds in the world. In fact, Emeralds from other parts of the world is measured by the standard set by the Columbian Emeralds. There are a few noteworthy mining sites in Columbia including Chivor, Muzo and Coscuez.
In general, darker and intense tones of green emeralds are sourced from Muzo while Chivor produces lighter and bluish-green tones of Emeralds. Coscuez in the treasure house of slightly yellowish green Emeralds.
Another region with an abundance of Emerald reserves is the state of Minas Gerais, Brazil. Belmont mine is another productive site for the May Birthstone.
Apart from this, Africa, Zambia, Pakistan and Afghanistan are other important producers of Emeralds.

The Emeralds belong to the family of the mineral beryl. It comes in various colours ranging from light green with yellow and green hues to lustrous green. The finest Emeralds have rich green colour often with a touch of blue hue that offers translucence depth and clarity.
The green colour of Emeralds is due to the presence of impurities like chromium and vanadium. Sometimes, the presence of Iron also affects the colour of the gemstone.
Emeralds are unique gemstones which are known for their inclusions caused by foreign materials trapped within the stone. In fact, as per some, these inclusion look like a mossy plant under a microscope.
Make sure to have a Grading report before you invest in any gemstone. This will give you a clear idea of its Nature of origin, Gem variety, Optical characteristics and Dimensions and physical characteristics.
A Few Historical Facts About Emeralds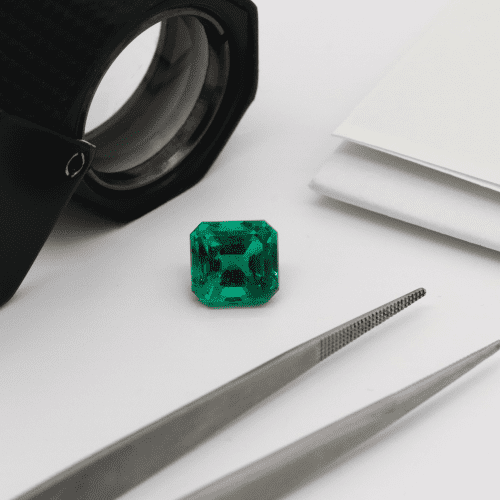 The earliest recorded mining of Emeralds is said to have occurred in 330 BC in Egypt. However, it is estimated that the oldest Emerald gemstones are more than 3 billion years old. 

Cleopatra, the famous Queen of Egypt, was pretty fond of Emeralds. During her reign she used them in jewellery, to adorn her palace and in fact laid claim to all the Emerald mines in Egypt. 

The Egyptians on the whole too were quite fond of Emeralds. They used them in jewellery as well as during burials. The Egyptian monarchs were buried with emeralds as it was believed that it could protect them. 

The Wonderful Wizard of Oz, a famous novel written by L. Frank Baum has a mention of 'Emerald City' in which the protagonist Dorothy journeys to find the wizard. 

Around the 1980s, Seattle, Washington was nicknamed the "Emerald City". 

Owing to its vast greenery, Ireland is also referred to as the "Emerald Isle". 

On the ground of the Grand Palace in Bangkok, Thailand, there's a Temple of Emerald Buddha wherein an Emerald Buddha (actually made up of Jasper) is situated. 

In 2011, an Emerald pendant owned by Elizabeth Taylor was sold for around $6 million. 

If you want to take a glimpse of the emerald treasures of Queen Elizabeth II, read our blog here – Queen Elizabeth II's jewelry collection.
Legends and Myths Behind Emeralds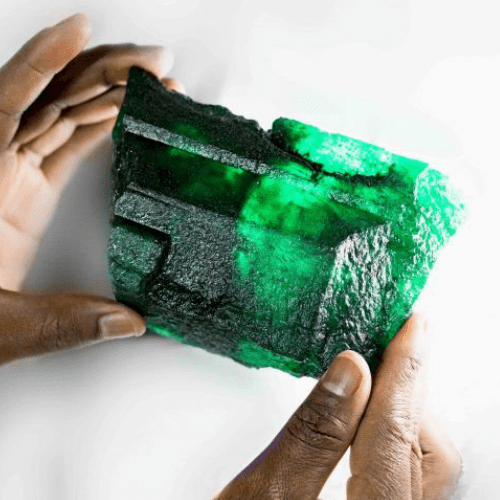 For centuries, the May Birthstone has been beloved by people across the globe. Consequently, a number of legends and myths have been associated with it. A few such interesting legends and myths are listed below. 
Also, as fun, as they're to learn about, their credibility is questionable. 
As per some legends, the Emerald was one of the four precious stones gifted to King Solomon by God himself. These four stones endowed the King with power over all creation. 

In the Middle Ages, Emerald was believed to possess mystical powers that can break spells and undo enchantments. 

Further, if placed on the tongue of a person, Emerald could compel the person to reveal the truth. Emeralds were even used for prognostications. 

As mentioned earlier, Hindu astrology linked Emeralds to the planet Mercury, which is the most powerful planet in astrology. It is believed that Emeralds could help in countering any negative influence that planet Mercury can have on the mind and bodies of people. Further, people with the zodiac signs of Gemini, Taurus and Virgo are recommended to wear the stone whereas Sagittarius, Scorpio and Aries are advised to stay away from it. 

In ancient times, Emeralds were considered a gemstone for passion, love and romantic energy.  In fact, even today, these attributes are associated with them. 

Emeralds were also believed to cure a bunch of diseases in ancient times including cholera and malaria. 

Moreover, it was believed that wearing an emerald could reveal the honesty or malice in a lover's oath. 
Use of Emeralds in Jewellery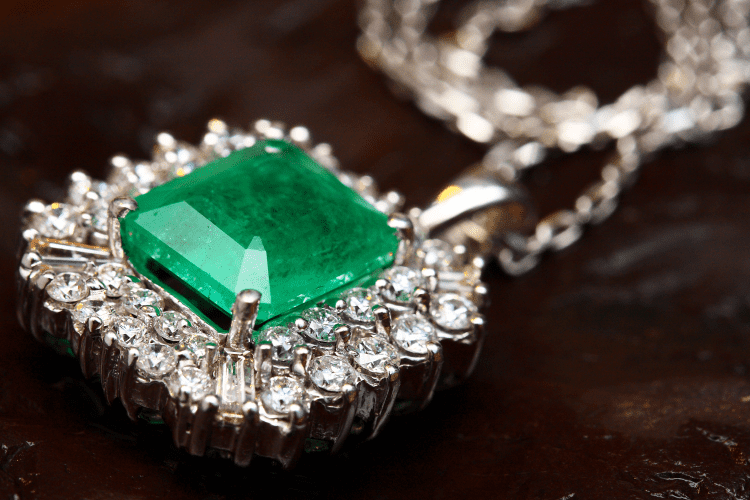 Emeralds have been used in jewellery for ages. Emerald rings, earrings, necklaces, studs, and bracelets, have been coveted by women across the globe. Even in modern times, their popularity remains the same.
How to Care for Emeralds?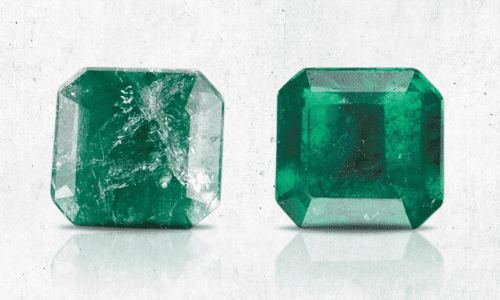 Since Emeralds have a hardness rating of 7.5 to 8 on the Mohs scale, it's more susceptible to scratches and breaking than a diamond. Moreover, Emeralds are often treated to improve their colour and clarity. Two of the most common treatments are listed below: 
Fracture Filling:

To reduce the fractures in Emeralds, a number of ingredients are filled such as oils, artificial resins and waxes. The volume of these filler materials can range from minor to significant and different fillers have varying degrees of durability. 

Dyeing:

Gemstones with a lot of fractures and pale colour might be dyed luminous green to improve their appeal. 

To protect your May Birthstone from scratching or breaking, you can take the following steps. 
Avoid exposure to heat, harsh chemicals and air pressure. 

Do not put Emeralds in ultrasonic cleaners as the heat and vibration can cause the fillers to sweat out of fractures. 

In fact, filled Emeralds can also get damaged in hot water used for washing dishes. 

Lastly, to clean your Emeralds, use lukewarm water and mild soap and gently rub them with a soft brush.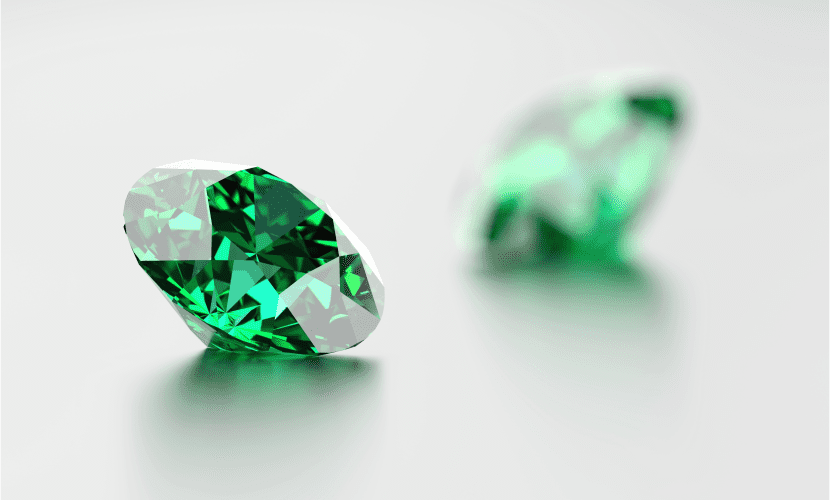 Emeralds and Agates are the two Birthstones for May borns.