Attractive, radiant and elegant are just some of the adjectives used to describe round diamonds. This article provides a comprehensive guide on everything that you need to know before buying round diamonds.
What is a Round Cut Diamond?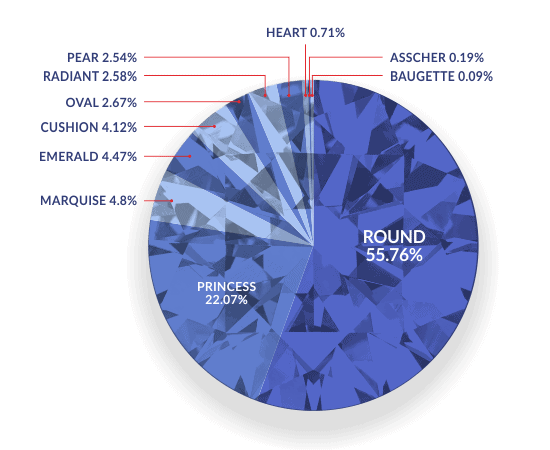 One of the most popular diamond shapes, round diamonds come with a classic uniform and symmetrical shape and 58 facets. Its superior mechanics are responsible for the maximum brilliance and fire it emits. That's why they are a popular choice for necklaces, rings, earrings and other jewellery pieces. 
Interestingly, over 75% of diamonds sold are round shaped diamonds. Such is the popularity of round diamonds!
History and Origin of Round Cut Diamond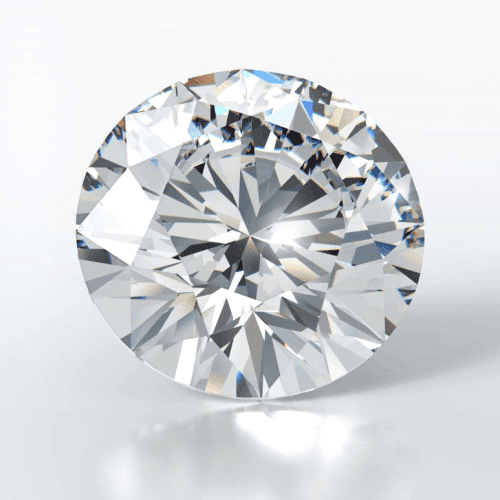 The round cut is the classic choice for every occasion be it engagements, anniversaries, get-togethers and more. Also, it complements every wearer be it young or old and traditional or modern styles. 
But, how did round diamonds evolve over the years? Let's see!  
The search for a brilliant-cut that showcases every facet of the diamond minutely has been long and tedious. However, towards the end of the 1800s, the invention of the bruting machine made it possible to carve a round cut diamond. 
In 1919, with the publication of Marcel Tolkowsky's thesis, round diamonds began to gain popularity. His work precisely described the ideal proportions for a  round cut diamond to maximise brilliance and fire. 
Over the years, there have been modifications in the cut metrics to perfect the size and shape of round diamonds. These theoretical advancements accompanied by technological development have allowed manufacturers to produce incredibly brilliant round cut diamonds. 
Today, we see round diamonds with 58 facets which reflect light from every angle thereby exhibiting a brilliant sparkle. 
Pricing of Round Cut Diamond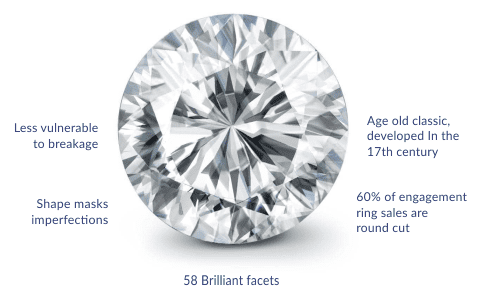 Round cut diamonds are the costliest of all diamonds. This is because a round diamond comes in a conical shape. To cut the diamond rough into the round cut, a large amount of stone has to be cut away. 
At times, almost 50-60% of the diamond is lost in the cutting process. Hence, the rest of the diamond has to be priced higher per carat. A typical high-quality 1 carat round diamond may cost $5000-6000. On average, a round diamond is 35-40% more expensive than other diamond cuts. 
However, this expense is worth its sheer brilliance, fire and quality of cut. Despite the higher cost, round diamonds continue to have high consumer demand. 
Round Diamond - A Popular Choice For Engagement Ring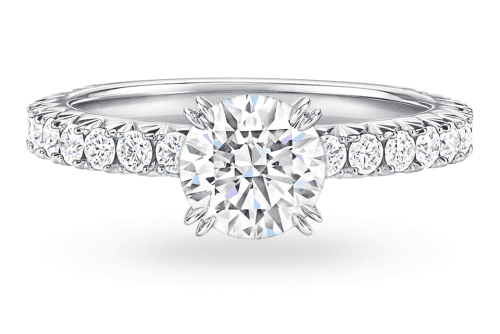 Round diamonds are one of the first choices for engagement rings due to their classic appearance and eye-catching sparkle. Some say about 60% of the round diamonds sold are used in engagement rings. 
What's the reason behind their popularity? Let's see! 
Undeniably, round diamonds are one of the most gorgeous diamonds. Why? They're cut with utmost precision and the best techniques. Also, its 58 facets ensure maximum reflection of the light. That's why they exhibit a mesmerising sparkle.
The beauty of round-cut diamonds has been cherished and handed down from one generation to the next for centuries. For instance, Queen Elizabeth's three-carat round diamond engagement ring was originally a part of Prince Philip's mother's tiara.
Have you ever been spellbound by a diamond's sparkle? Many times, isn't it? That is what we call brilliance- the quantity of white light that reflects off a diamond's table to naked eyes. 
The ideal semantics of round diamonds, which consist of 58 facets, play a key role in maximising their brilliance. That's why a precisely cut round diamond is an absolute eye-catcher. 
Fire refers to the coloured light that is emitted from a diamond. It gives character and beauty to the diamond. If a round diamond is precisely cut, it may exhibit tremendous fire.
Due to its classic design and timeless beauty, round cut diamonds complement many styles. For instance, modern round cut diamond rings or vintage rings. It can also be paired with any metal be it silver, platinum or gold.
Check out our blog on diamond buying guide. It will help you select the right diamond for the special occasion.
Best Setting For a Round Cut Diamond Ring
Round cut diamond is versatile in nature. It can complement any kind of style. However, here are a few settings that look gorgeous for a round cut stone:
Vintage Setting – If you're a fan of antique style, you will be spoiled for choice to select a vintage round cut ring. The vintage setting looks like a bracelet and enhances the beauty of a round cut diamond. 

Halo Setting – Halo setting is a collection of smaller stones that make a round diamond glitter. 

Pave Setting – Pave setting perfectly brings out the brilliance and charm of a round cut diamond. It adds a glittering sparkle to your engagement ring.
Celebrities Donning Round Diamond
The glamorous round cut diamonds are the hallmark of an engagement ring. Don't believe us? Have a look at the following celebrities flaunting their round cut engagement rings! 
Felicity Jones's classic round cut ring with a gold band sets an elegant fashion statement. 
Alison Brie's beautiful rose gold ring is encased with a round diamond and two round diamond halos to emphasise its shape. 
Kate Mara has been seen flaunting a simple yet elegant round cut diamond ring from her husband Jamie Bell. 
Meg Ryan's plain yellow gold band embedded with a beautiful round cut diamond never ceases to receive admirable glances. 
Rosie Huntington Whitley stunned everyone on the 2016 Golden Globes red carpet with her elegant round-cut engagement ring. 
Julia Stiles received a simple round cut diamond ring with a gold band on her engagement. 
Mila Kunis's round-cut solitaire engagement ring is an eye-catcher. Encased in an elegant platinum band, the ring appeals to everyone. 
If you're looking for a versatile and timeless diamond, a round cut diamond is undoubtedly the one you should choose. You can get in touch with us to help you certify the diamond you are planning to purchase. 
Frequently Asked Questions (FAQs)
Round diamonds are expensive because unlike other diamonds a huge amount of rough stone is removed while cutting them. Also, its popularity and brilliance play a key role in determining its price.