An engagement ring is a symbol of love and commitment that is given by one partner to another during a marriage proposal. Choosing the right engagement ring can be a daunting task, but with a little guidance and research, you can find the perfect ring that fits your partner's personality, style, and budget.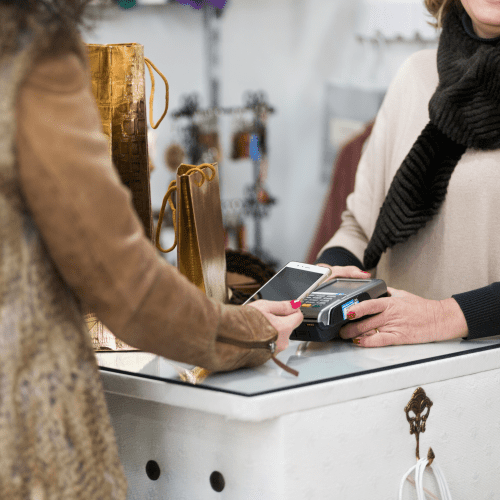 Buying an engagement ring is costly. Hence, it is important to set a budget that won't break the bank. If you have any specific diamond ring or style in mind, research the prices of it or any other similar rings that you have in mind to get a fair idea about how much you need to spend. This will help you plan your finances in a better way, save up money months in advance and buy a perfect ring as per your partner's preferences.
Look at Diamonds Under Different Lighting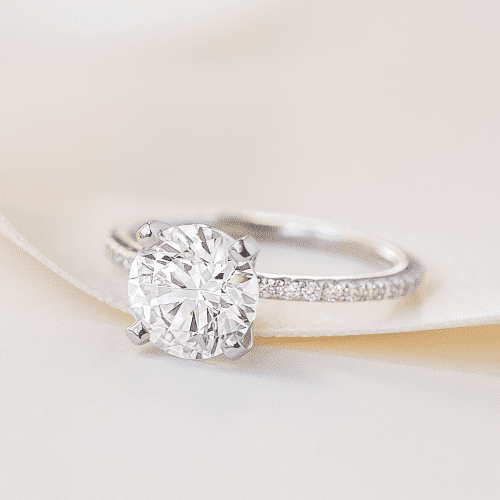 A diamond looks different under various lights. Jewellers typically use bright, fluorescent and white lights to make the diamond look shiny and sparky. However, our day-to-day situations do not have such bright lighting. Hence, it is important to check a diamond under average lightings, such as the normal outdoor light or warm diffused light commonly found in homes or offices. See how a diamond looks under normal lighting before making a purchase.

You can use a ring sizer to determine the right size for the person who will wear it. Your jeweller can help you with this. If you want to keep the process a surprise, you can try to guess the ring size by using a ring your fiancé already owns. You can trace the inside circle on paper or measure where it stops on your own finger to estimate the size. Keep in mind that ring size can vary from finger to finger.
Most rings can be resized by a size or two, but resizing more than that may be more difficult depending on the ring's style. Solitaire rings are easy to resize, while rings with many small diamonds or other details on the band will require more work.
Check the Diamond Certification or Grading Report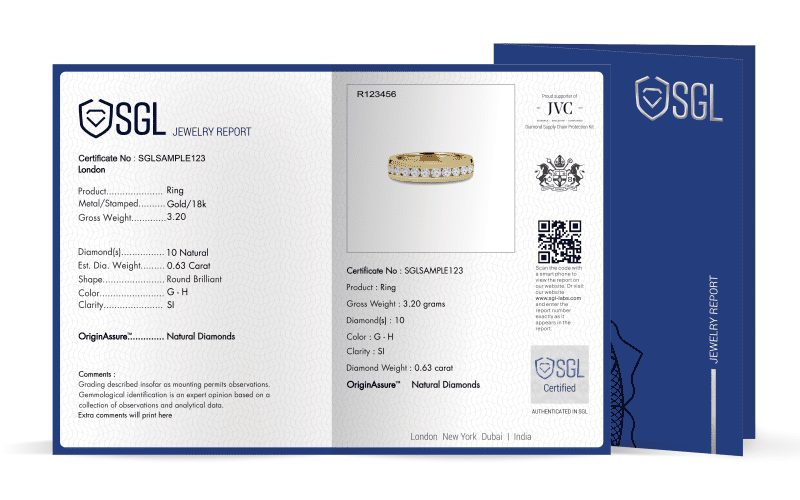 A diamond certification is a report that provides an accurate and detailed analysis of the diamond's characteristics, including its cut, clarity, color, and carat weight. Organizations like SGL Labs use a rigorous grading system to evaluate the quality of diamonds and provide a detailed report about their characteristics. When buying an engagement ring, it's important to ask your jeweler if the diamond has been certified by an organization like SGL Labs. A certified diamond gives you peace of mind knowing that you're making a smart investment and buying a high-quality diamond.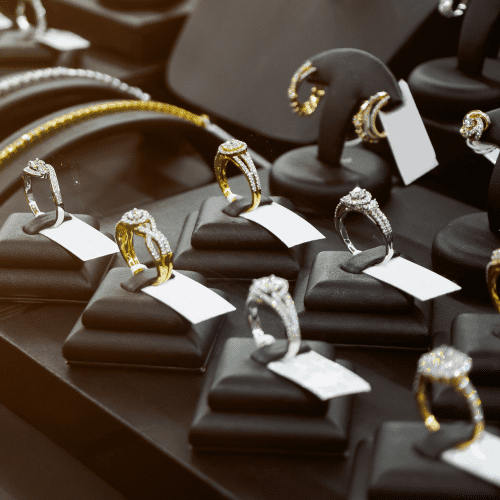 Knowing the latest style and trends in engagement rings can help you choose a ring that fits your personal style and reflects current fashion.
For example, in recent years, rose gold has become a popular choice for engagement rings, as well as vintage-inspired styles with intricate details and designs. Halo rings, where a center diamond is surrounded by smaller diamonds or gemstones, are also a popular choice.
Bohemian-style rings also have a romantic vibe. These rings are perfect for couples who want something that stands out from the traditional diamond solitaire and who appreciate unique, artistic design. These rings often use diamonds with geometric cuts, black diamonds, or rings with open shapes that are not the traditional round or oval.
Consider Alternative Gemstones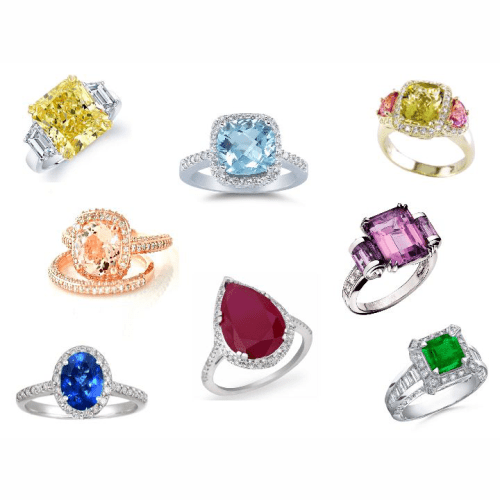 While diamonds are the traditional gemstone for engagement rings, more and more couples are considering alternative gemstones as a unique and personal touch to their rings. There are a wide variety of gemstones to choose from, each with its own unique properties and meanings.
Some popular alternative gemstones for engagement rings include:
Sapphires: Sapphires are a durable and timeless alternative to diamonds. They come in a range of colors, with blue being the most well-known. Sapphires are said to symbolize wisdom and truth, making them a meaningful choice for an engagement ring. You can read our blog on Sapphire to know more.
Emeralds: Emeralds are beautiful and vibrant green gemstones that symbolize love. They are not as hard as diamonds, so they require more care and maintenance, but they make a stunning and unique choice for an engagement ring.
Rubies: Rubies are rich, deep red gemstones that symbolize passion and love. They are a durable and stunning alternative to diamonds, and their bold color makes them a statement piece. You can read our detailed blog on rubies here.
Moissanite: Moissanite is a lab-created gemstone that closely resembles a diamond in appearance but is much more affordable. It is a durable and sustainable choice for an engagement ring, and its brilliance and fire make it a popular alternative to diamonds.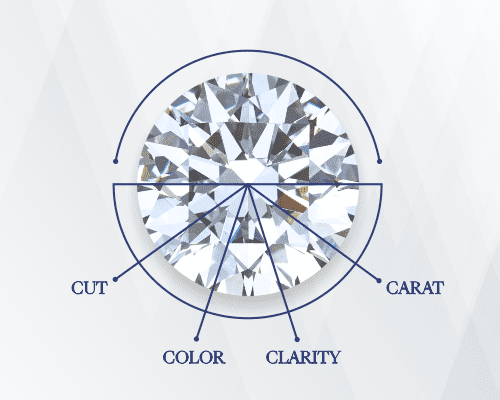 The four Cs of diamonds are the most important factors to consider when buying a diamond engagement ring: carat weight, cut, color, and clarity. These factors determine the quality and value of a diamond. Do your research and learn about the four Cs before making a purchase.
Color – Color refers to how much color a diamond has, with D being completely colorless and Z having light yellow or brown color. The less color a diamond has, the more valuable it is.
Clarity – Clarity is how clear a diamond is, with Flawless being the highest grade and Included being the lowest. 
Cut – Cut is how well a diamond is cut, which affects how it interacts with light. A diamond's brightness, sparkle, and flashes of color are determined by its cut.
Carat Weight – Carat weight is how much a diamond weighs.  Generally, the higher the carat weight, the more valuable the diamond is. 
By understanding the 4Cs, you can prioritize which C is the most important to you. It will also help you work with your budget, knowing which C you're willing to spend more on and which you're willing to compromise on.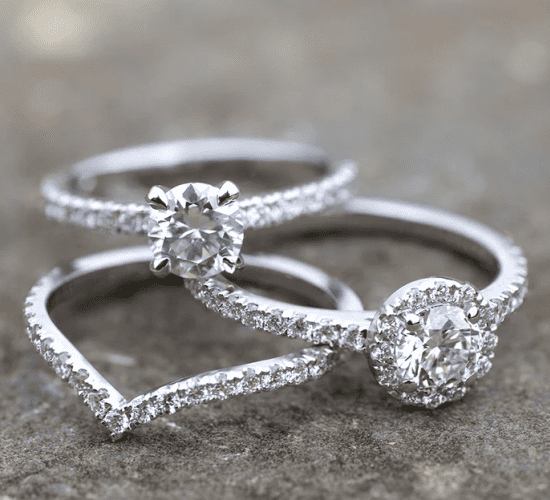 Exchanging the engagement ring is the most special occasion in your life. Make sure you give it a thought and buy the most precious ring. By following these tips, you can make an informed decision and find the perfect ring for your partner.