Diamonds are said to be a woman's best friend and her most prized possession. They are one of the hardest substances on earth with magnificent lustre. They have a crystalline appearance and can be of many colours. An investment made in order to gain ownership of a diamond always wins against the test of time. Diamonds have an extremely high thermal conductivity. Diamond has been derived from the Greek word ADAMAS, meaning indestructible and invincible.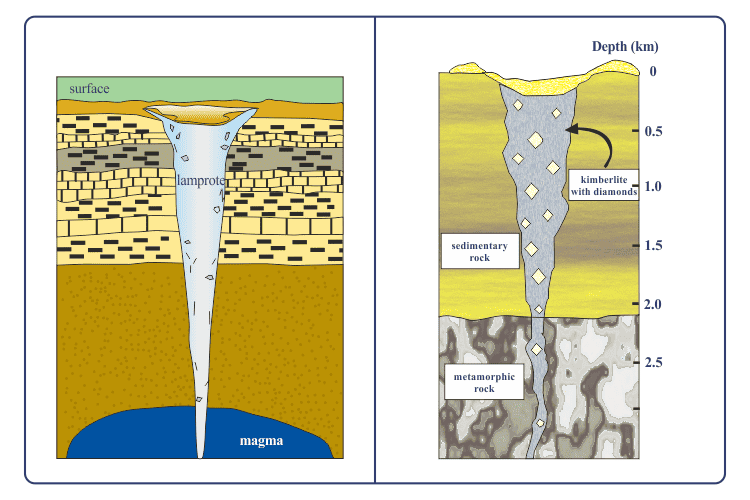 They are naturally occurring substances that are firmed within the earth's crust at an approximate depth of 150-200km. They are homogenous in nature, which means they consist of only one element throughout, which is carbon. All the diamonds that are available to us in today's world started to form billions of years ago, as their formation is an extremely slow process.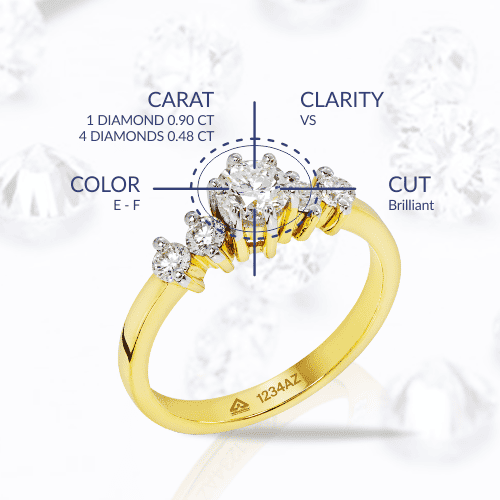 This is an abbreviated form for all the necessary parameters to describe a diamond's quality, characteristics and price. This standard is globally accepted and consists of the following:
Colour

: A scale starting from D ( representation of the colourless form ) to Z (representation of the most saturated form ) is made, and each

diamond

is tested on it to check its colour. Naturally, most white

diamonds

in their crystalline form have a yellow tint in them. The Closer the diamond is to D on the scale, the rarer it is. 
Clarity

: The sparkle of

diamonds

can be hindered by the blemishes in the diamond, whose amount, size, and placement varies from one piece to another. The phenomenon of refraction of light, which is the cause of the sparkle, gets disturbed by its presence, reducing its spark and clarity. 
Cut

: This refers to the cause behind the exposure of certain faces of the

diamond

to light, causing it to sparkle. The direction of cutting, symmetry and proportions directly affect the brightness of a

diamond

. The better

cut

also symbolises good quality craftsmanship. This parameter is the only one that is affected by human hands and hence requires a lot of discipline in the field. 
Carat

: Carat is a unit of weight and not its size. The value of the stone is in direct proportion to its carat weight. However, the

price

of the

diamond

is equally affected by the above-mentioned 3Cs combined as well. 
Along with these, there is also another extremely important 5th C that doesn't give us information about the diamond itself but is the most significant deciding factor about buying it. This factor is confidence. This certification tells us about the above 4Cs and makes it easier for the buyer to make a profitable purchase. 

After mining and extraction of the diamond from the earth's crust, it is a matter of human expertise to outshine the diamond by itself. There are many shapes in which a diamond can be cut. For example 
Round brilliant cut

: This shape is the most widely used and sold because of its maximum brightness. It is there in the markets and spreading exponentially since the 17th century. It is mainly used as engagement rings, earrings and pendants which leads to it being about 75% of the total

diamonds

sold. 
Oval cut

: The famous and priced

diamond

of Kohinoor that is also historically valued itself is an oval-shaped diamond. This

diamond

was discovered in India, but it is now in the UK after many battles that are just pages in history books. Hence, it can be estimated that this shape is one of the oldest and has been around since the early 13th century. 
Princess cut

: This cut gained immense popularity during the 1980s. It is one of the most unconventional cuts of all time. This square

diamond

is also comparatively more economical due to its lesser production of rough waste. This reduction is about 80% when compared to the other shape cutting. 
Cushion cut

: Formerly known as the old mine cut, this cut is now regaining its popularity and base in the market. This cut may seem Morden and thought to be one to the newer ages, but its footprints lead us back to the 17th century period. Many magnificent and popular diamonds of all times, like the Hope diamond, the Regent Diamond, The yellow Tiffany

Diamond

and the Napoleon

Diamond

, all fall under this category. 
Emerald cut

: It is sought to be the more modernised form of the cushion cut

diamonds

, which has comparatively softer edges and a broader head. Its classic elegance makes it the right fit as an engagement ring. 
Diamonds of historical importance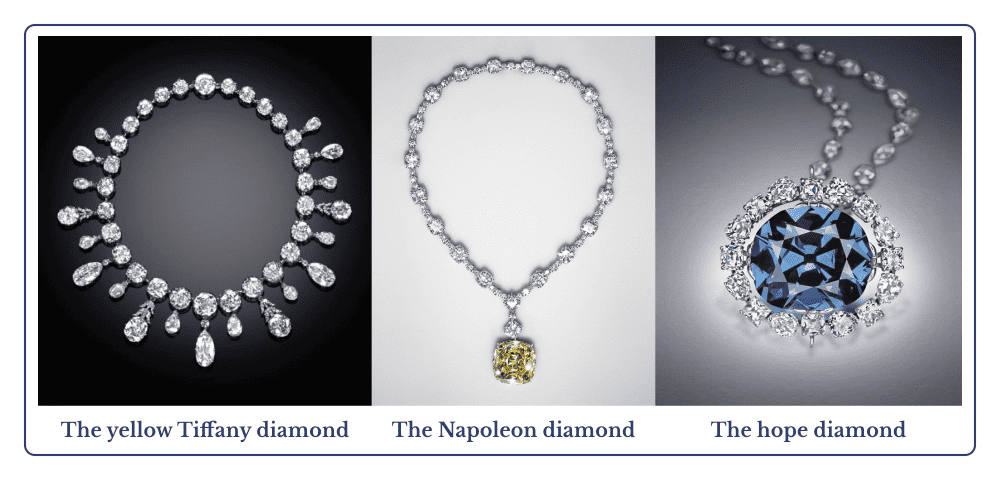 The yellow Tiffany diamond:

It was discovered in the continent of South Africa in 1877 and was bought by a jeweller from New York named Charles Tiffany, hence the name. It is the biggest yellow

diamond

ever discovered to date from the earth's crust. 

The Napoleon diamond

: it was curated by a Parisian jeweller on the order of Napoleon 1 of France to be gifted to his wife Marie Antoinette around the time of 1811-1812. It is currently placed in Washington and acts as historical evidence in the museum. 

The hope diamond

: This

diamond

was discovered in India in the 17th century from a mine in Guntur. It is magnificent blue in colour due to the presence of boron. Its exceptional size has led us to new facts and information about coloured

diamonds

. A gem merchant in New York owned it, but it is on permanent exhibition in a museum in the UK now. 
Differences between a real and fake diamond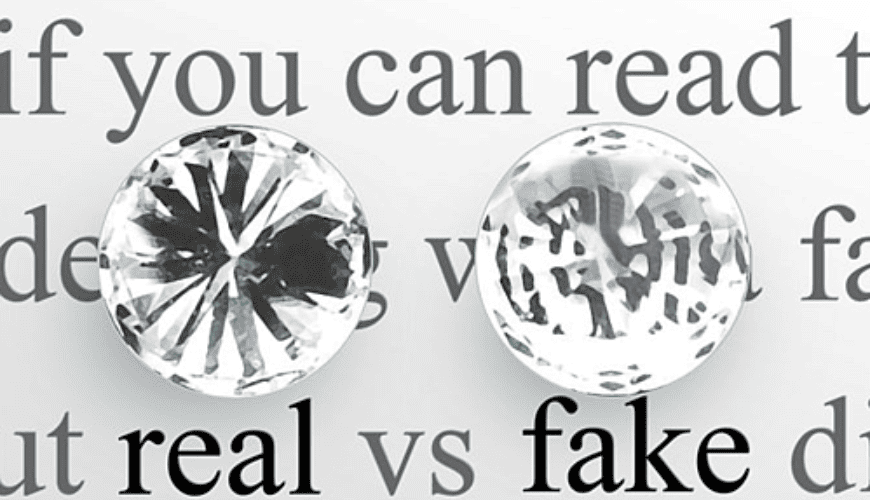 Due to the high demand for diamonds and their high rates, many types of fake diamonds are sold in the market. One should always be very careful before investing in diamonds.
Fake diamonds can also be broadly distinguished into synthetic diamonds and imitation diamonds. Here are a few differences between the above-mentioned two types of diamonds:
Formation determination

: Real

diamonds

are 100% naturally formed within the lithosphere. The other ones are made using hydrogen, carbon gases, glass and other cheaper products. 

Light and refraction:

Real

diamonds

have white and grey lights that are seen as sparkles. On the other hand, rainbow light, due to the complete diffraction of light and formation of a spectrum, is seen inside a fake

diamond

. 

Scratches or damage:

Natural

diamonds

will not have any scratches, irrespective of the time it has been put to use. However, fake diamonds start to deteriorate with age and usage. 

Heat conduction

: Natural

diamonds

are good conductors of electricity, even though they are completely made of a non-metallic element. It is the opposite way around for fake diamonds that do not conduct electricity. 

The sandpaper test:

Sandpaper is easily available in a household. Along with its other utilities, it can also determine the purity of a

diamond

. The sandpaper will not affect a natural diamond but will ruin the fake one due to the scratches that will be caused due to rubbing.

The Water test:

  Natural diamonds have comparatively higher density and hence sink when dipped in water. Hence a synthetic diamond will float on the water's surface, proving its worth. 
The Fog test: Natural diamonds are bad conductors of heat and hence will not let fog settle on their surface, and it will disappear quickly. If the mist remains for about 3-4 seconds, there is a high chance that it is a fake diamond. 
Are diamonds actually unbreakable?
Even though diamonds are the hardest naturally occurring substances discovered to date, they are breakable. It helps us form and cut them into various shapes of our choice. 
How are naturally coloured diamonds formed?
The discovery of naturally coloured diamonds is very rare and only happens due to the trapping of colour-giving elements into the crystalline structure. For example, a blue diamond's colour originated due to the presence of boron in it.
What are the uses of diamonds?
Usage in jewellery:

this is the most widespread use of diamonds and the primary factor for its high demand. It is fit for this role due to qualities like lustre and durability. 

Usage in industry:

Since diamonds are tough, they are also used to make blades for high-tech industries. It is helpful in drilling, grinding or cutting materials. 

Usage in beauty products:

with the growth of the skin and body industry, researchers have also found out about the great capability of diamonds to be used as a face exfoliator. Even though their costs are high due to the usage of diamond dust, they are extremely beneficial. 
Are diamonds used in the automotive industry?
Yes, diamonds are used in the automotive industry in the making of vehicles. Every high-tech car has about 1.5 carats of diamonds present in them. Even the drillers and other pieces of machinery required for making automobiles use diamond as a necessary component.